Aurora Hunting Tour
I organise small northern lights photography tours in Rovaniemi Lapland Finland!
aurora hunting tour rovaniemi
How does the aurora tour work?
My aurora hunting tour departs from Rovaniemi in Finnish Lapland. The tours are organised from end-August until early April on nights when seeing auroras is possible.
I have small groups only with, minimum 2 people, and maximum 8 of people.
Usually, the sky is clear in Rovaniemi on only about 10–20% of the nights. This means that most times, we need to go elsewhere to see the aurora.
Where exactly? This depends on then night. Before each tour I look at many different forecasts to find out which area has the best chance for skies. This means that on some nights we travel 100–200 km away from Rovaniemi, and on other nights up to 450 km away from Rovaniemi (and back), visiting north of Finnish Lapland or Sweden.
With this approach we succeed 95% of the time. Sometimes, even if we do our part and find clear skies, the aurora does not show up. That's nature. For such nights, I have my aurora guarantee – you only pay for seeing the northern lights. If aurora is there, but it's faint (barely visible with naked eye), the charge is 50%.
If we can find clear skies within 200 km from Rovaniemi, the tour usually lasts around 6–8 hours. If the drive is longer (300–450 km), the tour may last 10–12 hours. You will be notified before the tour, if the drive is very long.  
We depart on the tour early, and don't leave until the show is over. We skip the "aurora barbeque", because seeing the Aurora is the main thing! I do have some hot tea & snacks with us, and you can also take some  drinks and snacks with you.
When the auroras come, we take aurora pictures and videos together. I will be happy to teach you how to make beautiful aurora photos with your own camera. You can also use my professional tripod. Making aurora photos is fun! We can get really creative with using different led lights or lanterns.
The tour includes all photos & videos, warm winter clothing (overalls & boots), hot tea, small snack. I can pick you up from Rovaniemi centre + 10 km area.
Some nights, however, it is just too cloudy everywhere, or the aurora activity might be too small. If that's the case, the tour is usually cancelled.
P.S. Sometimes, finding clear skies is not possible even within Finnish or Swedish Lapland. For such occasions, I have a Crazy Hunting Tour, that usually takes you to Norway, or very far into Sweden, lasting 14–18 hours. Check pricing & info at the end of the page.
P.S.S. Keep in mind that during Full Moon it is not easy to see small aurora with a naked eye. If the aurora is strong, it will still work however, new moon is usually better. I suggest that you check the Moon Phase calendar before booking your trip. Also, aurora activity is different depending on the month – check my Aurora info.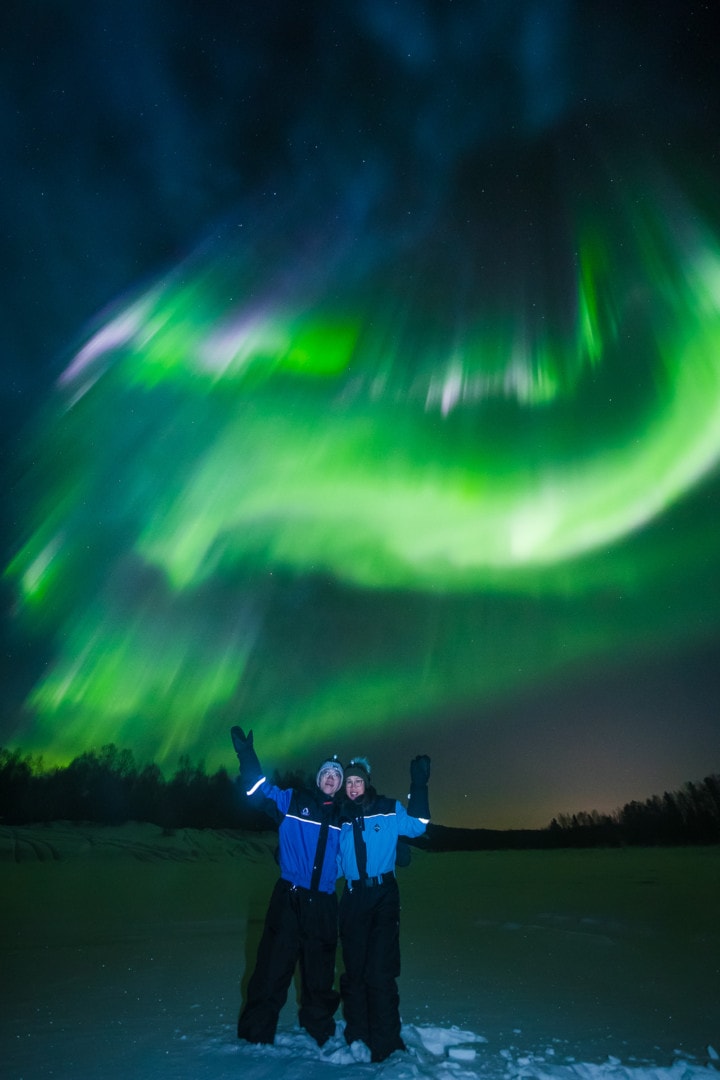 We take beautiful aurora photos and real-speed aurora videos on our tour.
You will get the link with all the successful ones!
Important info about the tour:
Forecast is short
The span for aurora and weather forecast is extremely short. Once your trip to Rovaniemi is near, we will provide you with the latest forecast, and choose the best night for a tour with you. Sometimes, the decision about the tour is made just a few hours beforehand. If the weather is bad or aurora activity is weak, my advice is usually to stay home. We only do a handful of tours per month and keep our success rate high!
Every tour is unique
We do not have a standard departure time or set location for our tour. Our tours are very flexible, and can start earlier or later, depending on the forecast. We choose our locations depending on the season and weather. If one place is not working, we go search for another one. We try to avoid other groups & mass tourism to have our own privacy. The duration of the tour varies between 5 and 8 hours.
Better for adults
Aurora hunting often take us on long journeys around Lapland. We often spend many hours outside, and despite warm clothes & boots that I provide, it can still feel freezing. If you are a family, you need to be aware of the tour's duration & cold weather. The minimum age in winter time (Nov-Mar) is 12–13 years. In August-October a private family tour with younger kids is possible. infants and toddlers should stay home.
Experiences by the real people: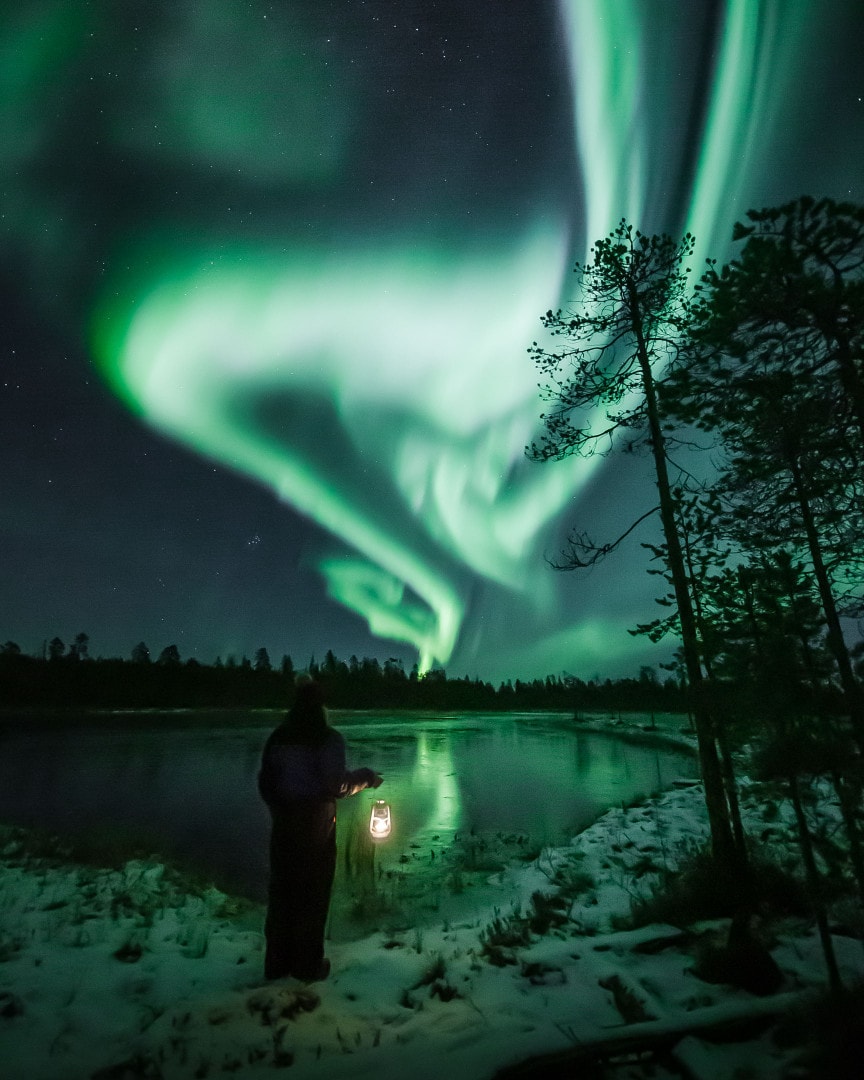 "Amazing experience!"
We went on a tour last night with Alex and had the most amazing experience. Thoroughly recommend his knowledge, hospitality and experience to ensure you locate the Northern Lights and see the beauty unfold. We definitely needed his experience in helping us take great photos (though his photos were just so much better). Alex also provided warm clothes, shoes plus a Finnish picnic which capped off they night. Thanks so much for an amazing night!!!!! "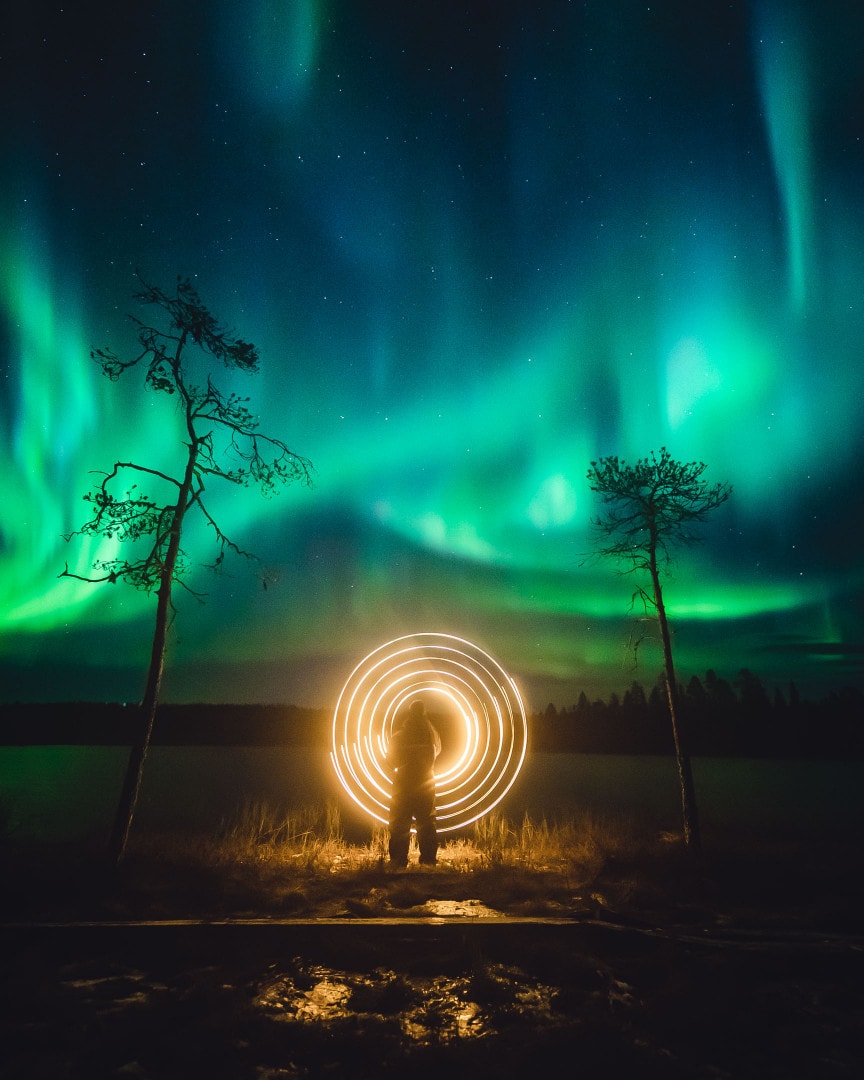 "Thankful forever!"
I would like to describe someone really special I met in Rovaniemi last year. He was so attentive since the first time we talked. He shared with me all of his knowledge about the northern lights and drove for a couple of hours to show us the aurora dancing in the most beautiful sky I've ever seen in my life. Thanks to him, I had the most amazing night of my life seeing the northern lights and I'll be forever thankful to him. He's Alex Kuznetsov.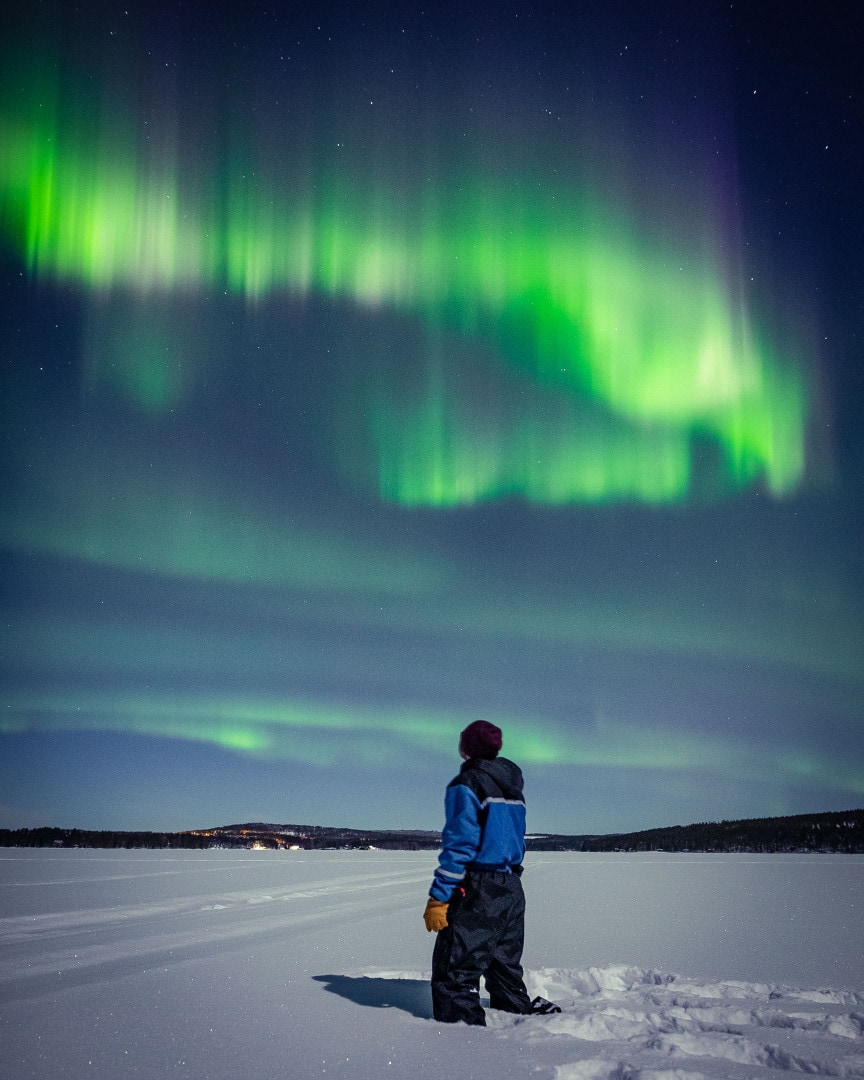 "Thank you very much!"
Alex, just wanna say thank you very much for your hospitality, guide and all of your efforts to make sure we are happy and fulfilled by your aurora hunting services. I would definitely recommend you to all my friends who come to Finland. Again, thank you so much it was a life time experience!! 
see the video from our aurora adventures!
AUTUMN 2023
1 September – 31 October
230€ per person
WINTER 2023-2024
1 November 2023 – 15 April 2024
250€ per person
What's included?
Aurora hunting for 5-12 hours with car drive.
Driving up to 900 km in one night.
Aurora photos & videos of you without limit.
Warm padded overalls & robust winter boots.
Hot tea / snack during the trip.
Gear lending: tripods & helping you take pictures
Pickup / dropoff from Rovaniemi centre + 10 km.
If we need to go more than 450 km (to Norway) to get to clear skies, and you are crazy enough to join 😉
300€ per person if you see auroras
(50% or 150€ per person, even if you don't see )
Contact me for a tour!
Let me know how many people are coming, and when.
+358400825570 (text me at Whatsapp)
or, use this contact form: