What are the best places to see and photograph northern lights in Rovaniemi? What spots to choose and in which season? Read the best tips by a local aurora photographer!
I am often asked what are the best places for northern lights in Rovaniemi. I am sure you want to know too! I am happy to share my tips about my hometown.
I have hunted northern lights in Rovaniemi since 2012. During my first few years, I used to bike around with my backpack and a couple of tripods. I could not go very far from the city, so I have visited a lot of spots in the vicinity of city centre.
To see the northern lights, you need to have a good view over the north, and to escape the city lights. There is a lot of light pollution Rovaniemi centre, but still, there are few good spots to see northern lights. You just need to get the timing right!
1. Arktikum Park / Arboretum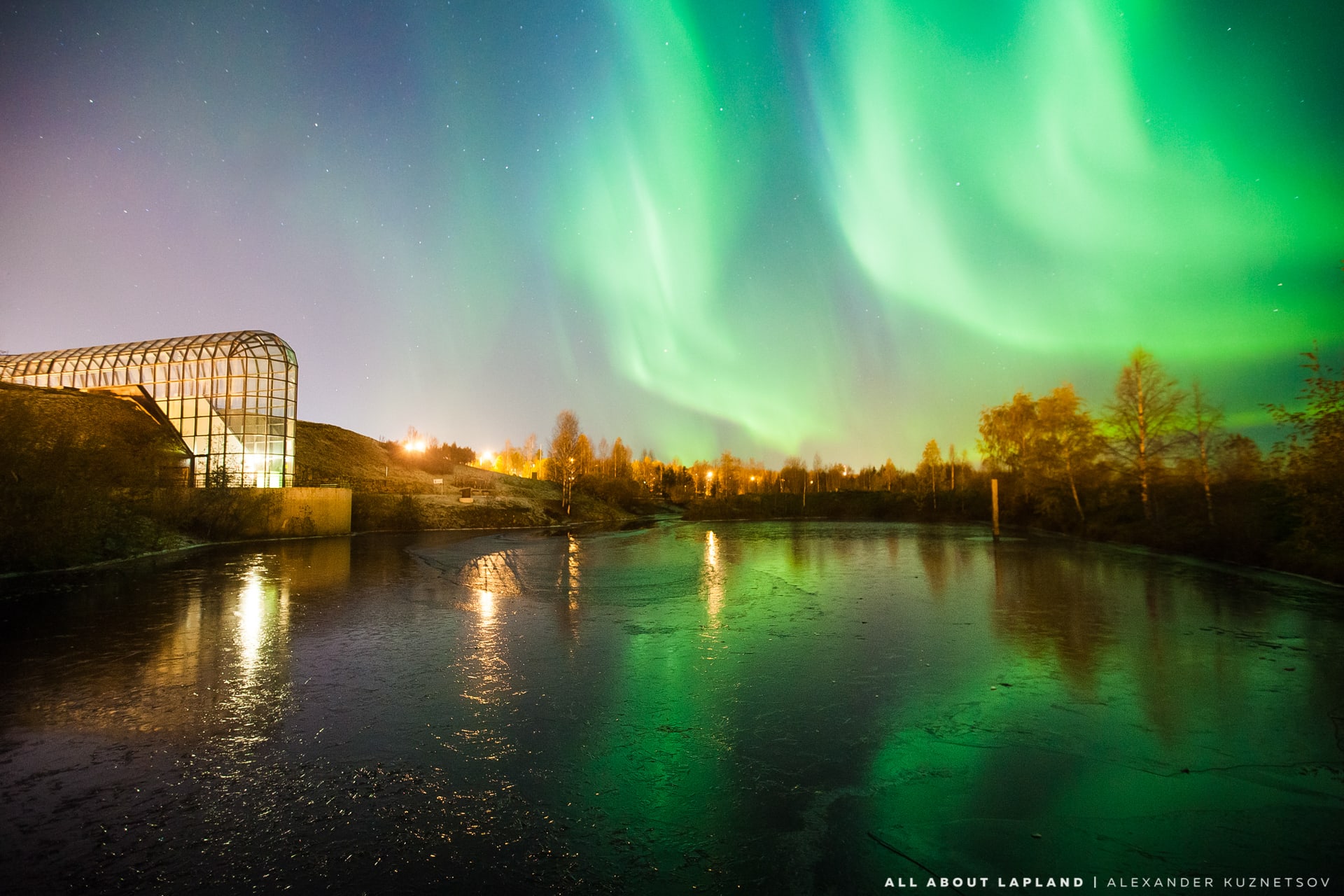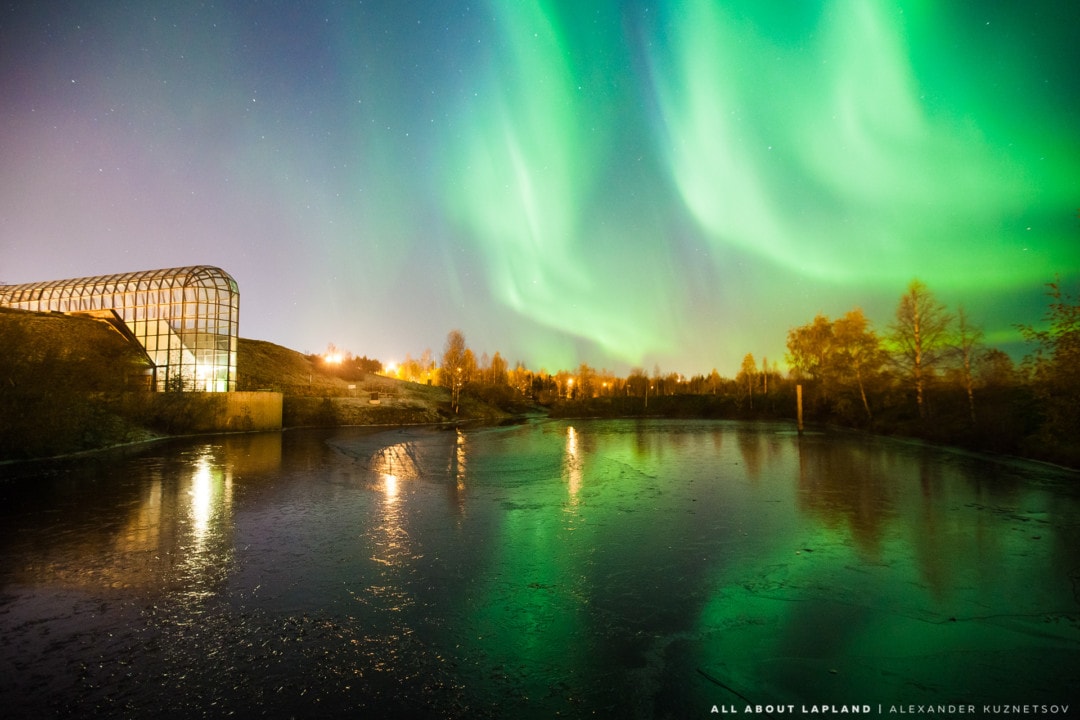 Arktikum Park is the most easy place to reach if you are staying at Rovaniemi city centre. Arktikum Museum & Science Centre is situated just 5 minute walk away from Rovaniemi centre, on the shore of Ounasjoki river. The museum's glass corridor stretches almost 200 metres pointing in the direction of north. This is a  great location for northern lights.
Arktikum Park still remains one of my favourite spots to shoot northern lights, despite the fact that nowadays I own a car and can go anywhere to hunt for auroras. The fact that there is a small pond and a river nearby, as well as Arktikum beautiful architecture, make it a very versatile place to make northern lights photos. I must have spent hours and hours waiting for northern lights here, in any season! You can go all the way to the river bank, having the Arktikum building behind you, and look north over the Ounasjoki river.
Keep in mind that Arktikum Park still has a lot of light pollution, coming from the very busy E75 motorway. This means that you might not be able to take pictures if northern lights in the direction of the motorway (located to your right if you face river). However, it still works relatively well for northern lights, as they usually appear over the river, left of the highway.
Even though it is a good spot, timing is always the King. Too often have I seen tourists at Arktikum Park who only spend 15 minutes waiting on the spot, and leave too early. In the morning, I share my amazing photos, and people tell me that they were in Rovaniemi and haven't seen anything! It's a classic!
Check the blog post that I've written about seeing the northern lights at the Arktikum Museum.
Location on map.
2. Koivusaari island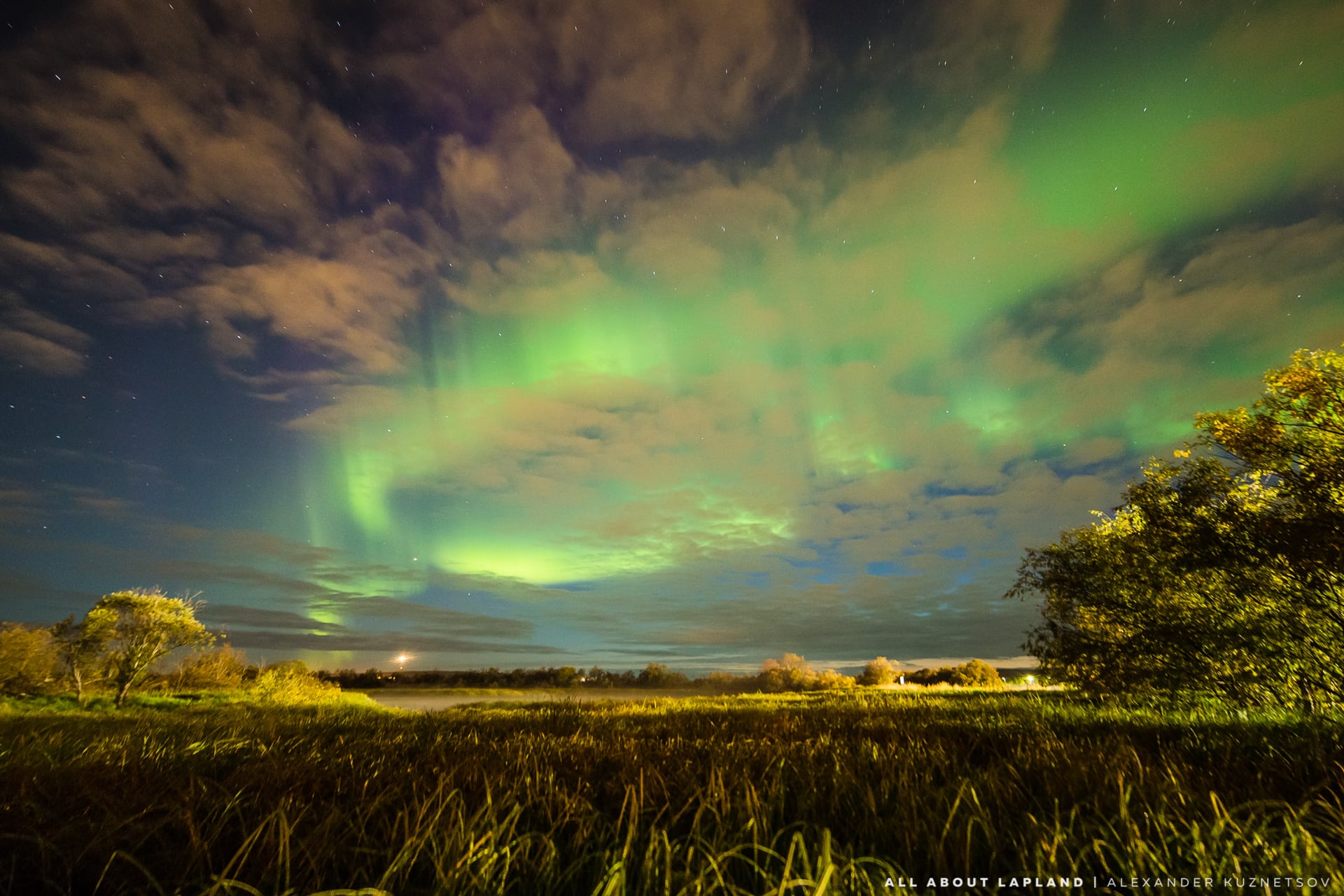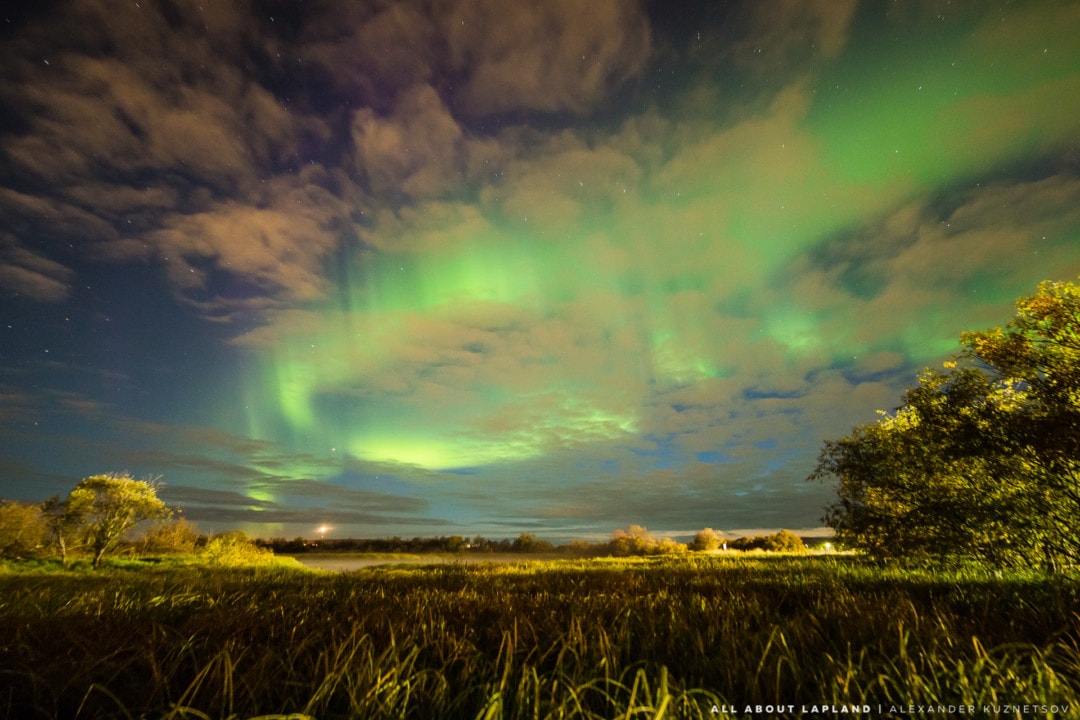 The island of Koivusaari is located inside Ounasjoki river delta, just opposite the Arktikum Park. The island is relatively easy to reach, as it is connected with the city by E75 motorway. If you do have a rented car at your disposal, you can park it near Ounaspaviljonki boating station. You can park actually near the river, on a gravel parking. After that, you need to walk the wooden stairs to the motorway, and cross the bridge heading back to the city. Another set of stairs will lead you down to the island.
You can also reach the island by walking. Just head north along the side walk of E75 motorway. You will cross one long bridge first, but look around at the second bridge. There will be stairs (watch out, they are quite shaky!) leading below the bridge. You will then need to cross the motorway underneath. What an adventure already! You will come up to the same gravel spot that we talked about before. From there go up the wooden stairs, and cross the bridge again, heading back to the city.
Koivusaari island has a great nature trail that circles around the island. Needless to say, it is an amazing place to visit at daytime as well. At night time, I prefer to head out to the northern part of the island which also has the best view over the north, and is situated farther away from light pollution.
Koivusaari island is my favourite place especially in autumn, before the snow comes. Some of the reasons are the island's nature and beautiful reflections of northern lights that you can capture in the water. After the first frosts and a few heavy snowfalls the place looses a bit of its potential, and also becomes more difficult to access.
Location on map.
3. Ounasvaara fell
Ounasvaara fell is the big wide hill situated next to the city centre. It is a great place for all kinds of outdoor activities, including hiking, skiing, mountain biking etc. At night time, it is a perfect place to look for the northern lights.
Ounasvaara is easy to reach from Rovaniemi centre. You can walk there in about 25–30 minutes, or get there in 5 minutes if you take a taxi. It is a great place if you already stay in the area, at Santasport's Sport Hotel or Sky Hotel.
The northern lights can be best seen from the top of Ounasvaara fell with northern horizon in sight. I can advise you to explore the trails that go left and right from Sky Hotel. One of the best paths starts from hotel's western end. If you walk far enough, you will reach the Tottorakka ski station. You will recognise it by the triangular structure, situated on top of the it.
Ounasvaara is especially great in winter, when the forest is covered with snow. However, it will also work well in autumn in spring. Just remember to bring some warm clothes with you and have patience to wait!
Location of Sky Hotel (departure point of trails).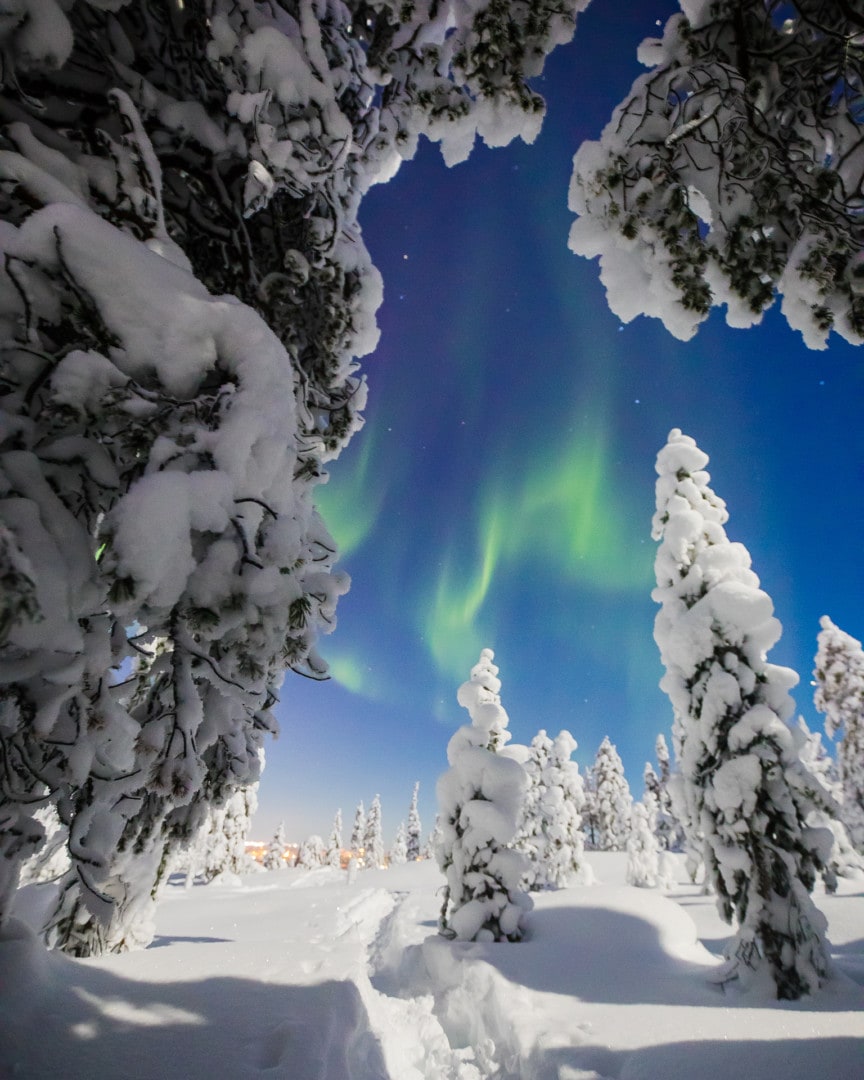 Aurora Borealis in Rovaniemi
Northern lights can get quite powerful in Rovaniemi! See this video with some of the best aurora moments that I captured.
More locations!
If you want to go further away from Rovaniemi centre and want to explore, I've got a few more tips for you!
4. Lake Vietonen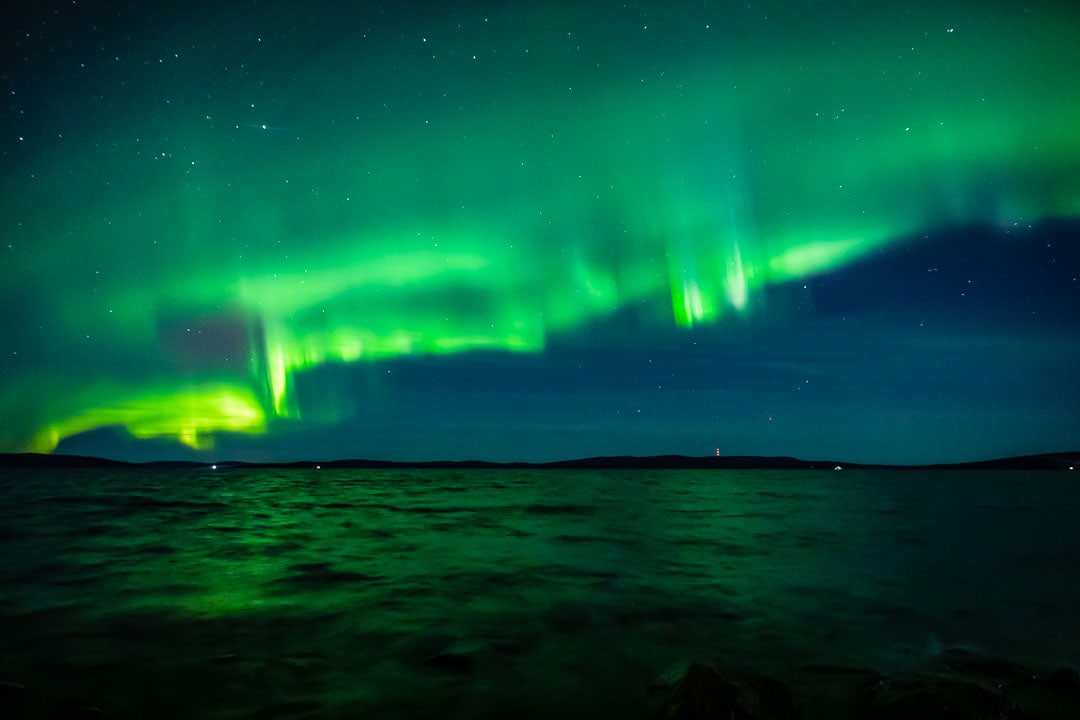 Lake Vietonen is situated about 60 km north-west from Rovaniemi. It is very easy to reach by car. The lake's most picturesque spot is situated right near the parking spot.
Lake Vietonen is great to taking northern lights photos during autumn season when the water is still open. One of the most magical time to take aurora photos is after the first frosts, when the water freezes, but snow does not fall yet. Usually, you can walk a little further on the frozen ice and take some magical photos. I strongly stress that doing so might be dangerous. If you don't know what you are doing, better not try this.
Lake Vietonen also works well in winter time, as it has a good view over the north. Lately, however, the place has become too popular, and rare are the nights that you would find yourself alone there. Watch out for busloads of tourists with their flashes on! 😉
5. Arctic Circle Hiking Area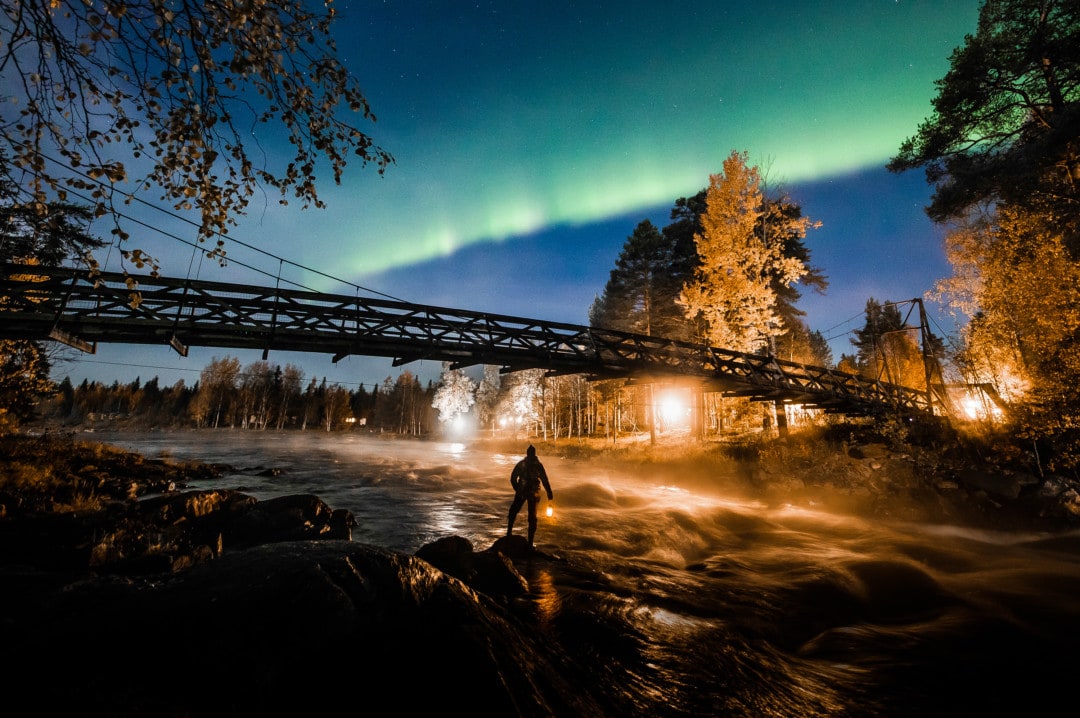 Arctic Circle Hiking area is another one of my favourite spots for northern lights. It is situated 25–30 km away from the city towards north. The hiking area stretches along the river of Raunanjoki, which can be crossed with the help of two suspended bridges.
The first bridge is situated at Vaattunkiköngäs, near the Arctic Circle Wilderness Lodge, which is also a great place to stay, if you prefer to be closer to nature. The bridge leads towards the island of Könkäänsaari which has an easy-access path around it. The island itself has quite big trees, but there are a few nice openings on the path on the northern part of the trail. The island also has a nice lean-to with a supply of firewood that you can use for free.
Another suspended bridge is situated more north at Vikaköngäs. This is area is also a favourite for many tourist groups, but there is space for everyone.
The suspended bridges are some of my favourite places to take pictures, but I can honestly say that if you don't care for photos, then choose some easier spots. The shores below the bridges can be quite challenging places to navigate, especially in winter. The river of Raudanjoki is floating fast enough that it does not freeze completely even in winter. Its shores can look frozen and snowy, but you never know if they might collapse. If you are photographer and still want to go there, then take some partner with you, or at least try the snowy shores with a stick before going there.
Locations on the map:
Vaattunkiköngäs / Arctic Circle Wilderness Lodge
Recent Aurora Blog Posts: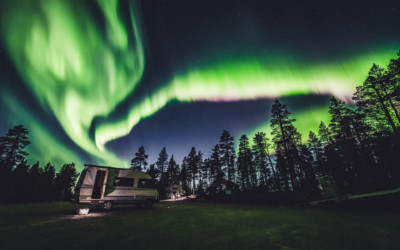 The Aurora Storm in Ivalo Lapland Finland was truly a mind-blowing experience! Massive northern lights were dancing in the skies for almost 6 hours. Read more!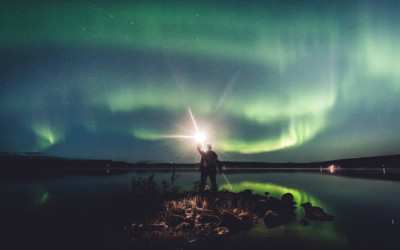 September & October are truly the best months to see northern lights in Lapland! In this article I explain why autumn is a really good season for aurora hunting!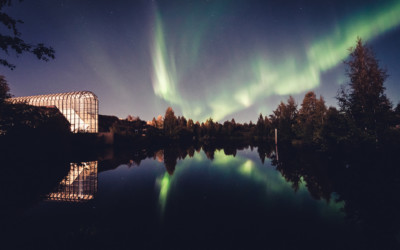 Arktikum Park is one of the best places to see northern lights in Rovaniemi Lapland Finland. On a cold September night in 2019 I went aurora hunting there, and seen a small aurora storm!
 Get notified when northern lights appear in Lapland!
Northern Lights Alert App analyses the night skies, and sends notification on your phone immediately when the northern lights appear.
I have tested the Northern Lights Alert App for several weeks and found that it works like a clock. Northern Lights Alert App also takes the clouds into consideration, and does not send you false notifications. Currently, the App works in following cities: Rovaniemi, Levi, Ylläs, Saariselkä, Ivalo.
The service costs 9,90€ for 3 days, and you can choose which city you want to be notified about.
Use our affiliate link and help the site 🙂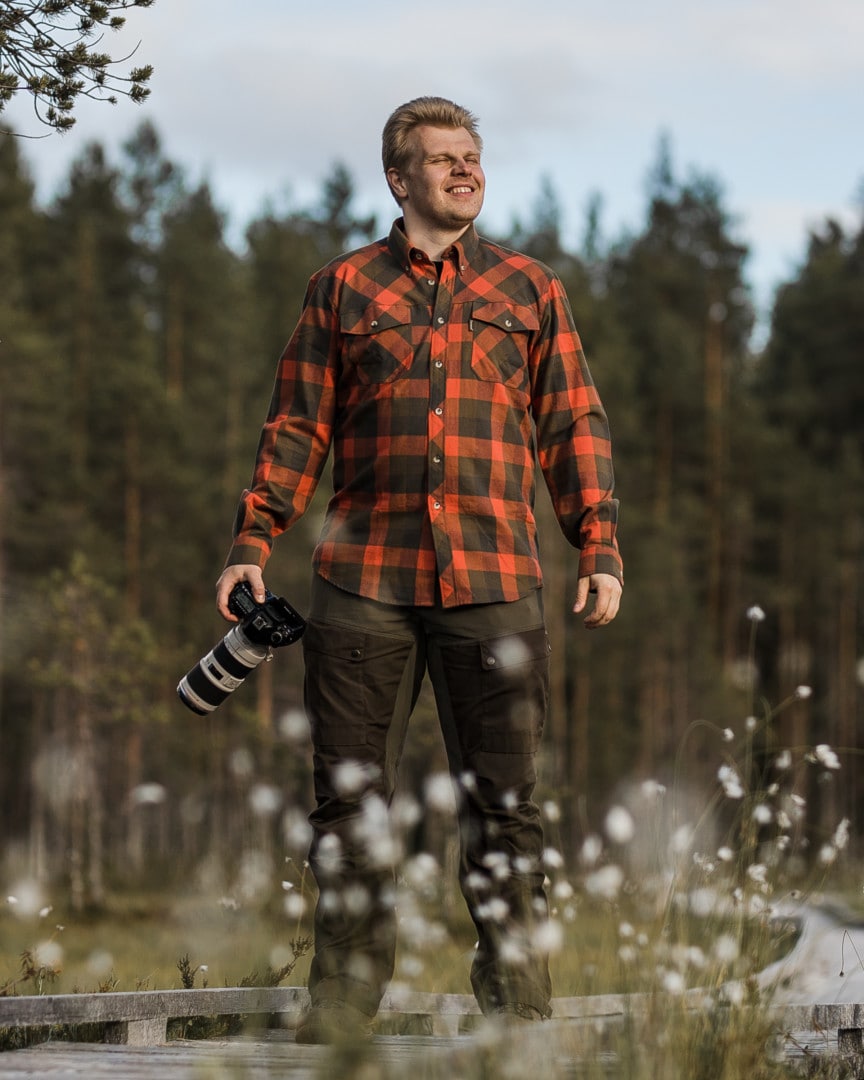 Alexander Kuznetsov
Aurora Hunter
Alex is a passionate aurora hunter and photographer based in Rovaniemi, Finnish Lapland. He spends dozens of nights every season hunting and waiting for northern lights. He is driven by the desire to capture aurora borealis in its full glory, as well as to capture the ultimate aurora photo that no one has ever seen before. Alex is also a videographer, hiker and explorer.