The Aurora Storm in Ivalo Lapland Finland was truly a mind-blowing experience! Massive northern lights were dancing in the skies for almost 6 hours. Read more!
Seeing Aurora Storm is always breathtaking, even if you are an experienced aurora hunter! And if you are a beginner, you will be totally blown away! This is exactly what happened on a night of September 27th 2019 in Ivalo Lapland Finland!
We went aurora hunting with my friend Juha from Aurora Village that night. He had guests coming over, and we took them with us, of course! Little did they know what kind of experience awaits them! The guests (Heini & Mattia) have never seen northern lights in their life, so when the saw the most powerful Aurora Storm, they were completely blown away!  
  We actually carefully planned this night with Juha in advance, as we've been hunting with him before. September is usually one of the best months to see the northern lights, and the forecast was good especially for end-September 2019. With that info in mind, I've headed to Juha's place, the Aurora Village in Ivalo. The night I arrived it was cloudy as hell, and no auroras in sight. Tired of the drive, I slept like a baby in the aurora cabins.  Next morning was very cloudy, but the sky became clear in the afternoon!
Juha's friends Heini & Mattia arrived to the village, and we've decided to go fatbiking first. The day was very beautiful. Juha led us to a lake in Ivalo. It was still very warm, and we all enjoyed some sunshine. The polar night is coming, so the sun will be rarely seen until February.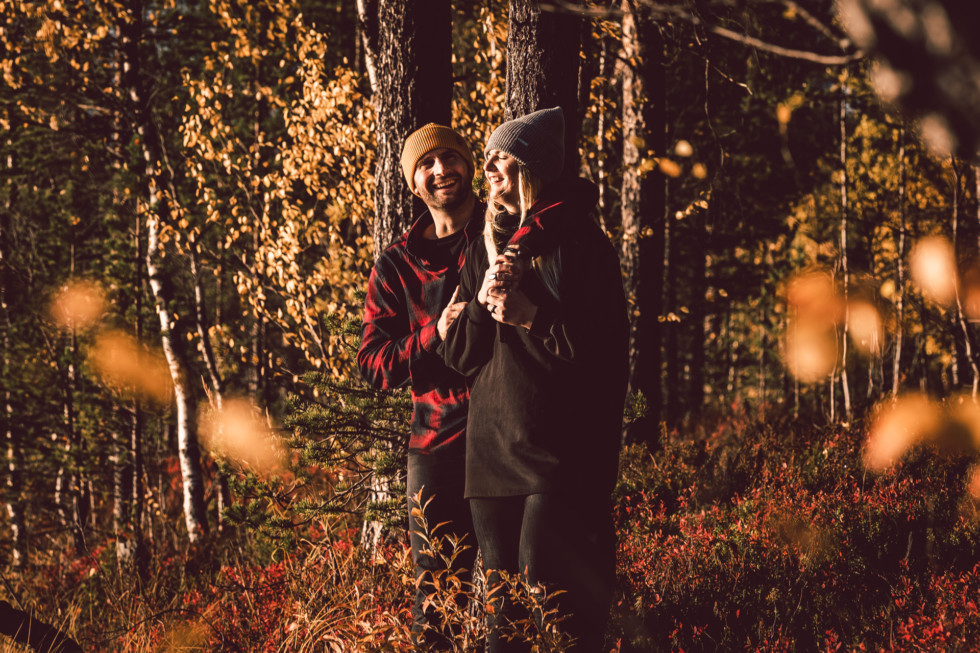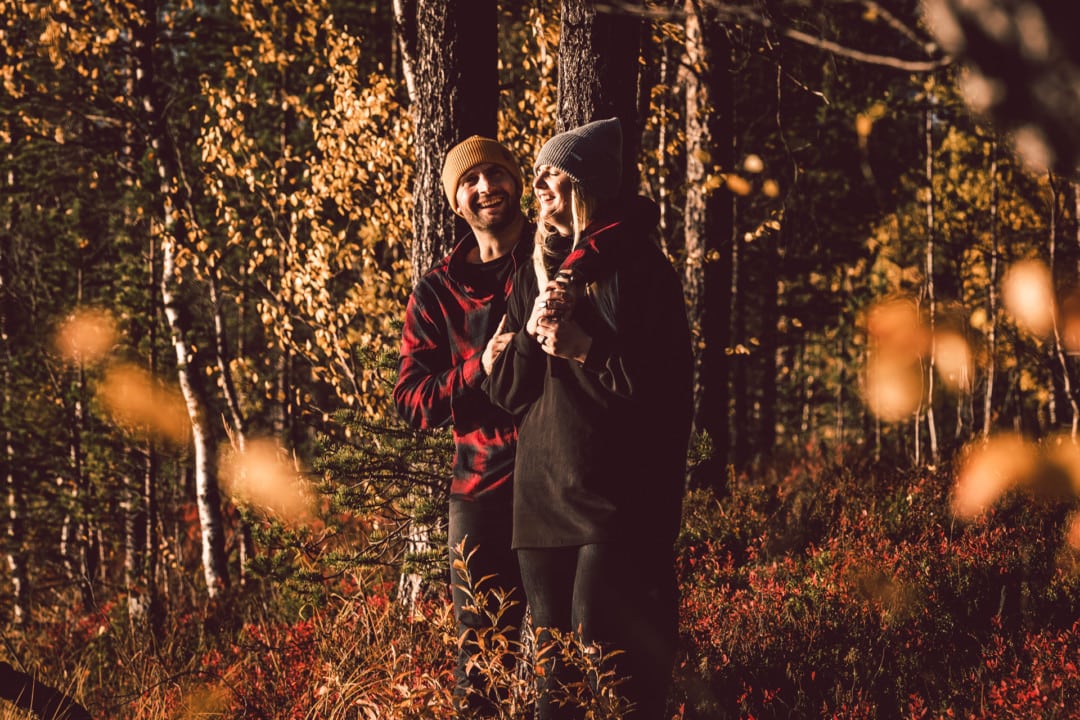 During the day, I realised that the promised aurora storm has arrived (I keep look for forecasts on SpaceWeatherLive.com). I knew that the auroras will come just after the sunset, and was a bit worried about our timing. I almost screamed at my friends so that they would carry on with their dinner!
Juha has recently bought an old camper van, Solifer from 1992. This would be our main aurora hunting vehicle that night! We packed our tripods, cameras, lights, and swimming equipment (yeah, I know!) and took off. You can actually see the whole experience on the video link below:
Aurora Vlog Episode 4 – Aurora Camper
The drive felt long and excruciating. Juha was pulling everything out this old van. As we drove near our destination, we've started seeing the auroras emerge in the skies through the foggy windows of our Aurora Camper.
– Come on! Push it! – we screamed.
The old Solifer reluctantly made it up the hill, just in time for the big show. As soon as we got out of the van, and unpacked the gear, the sky exploded.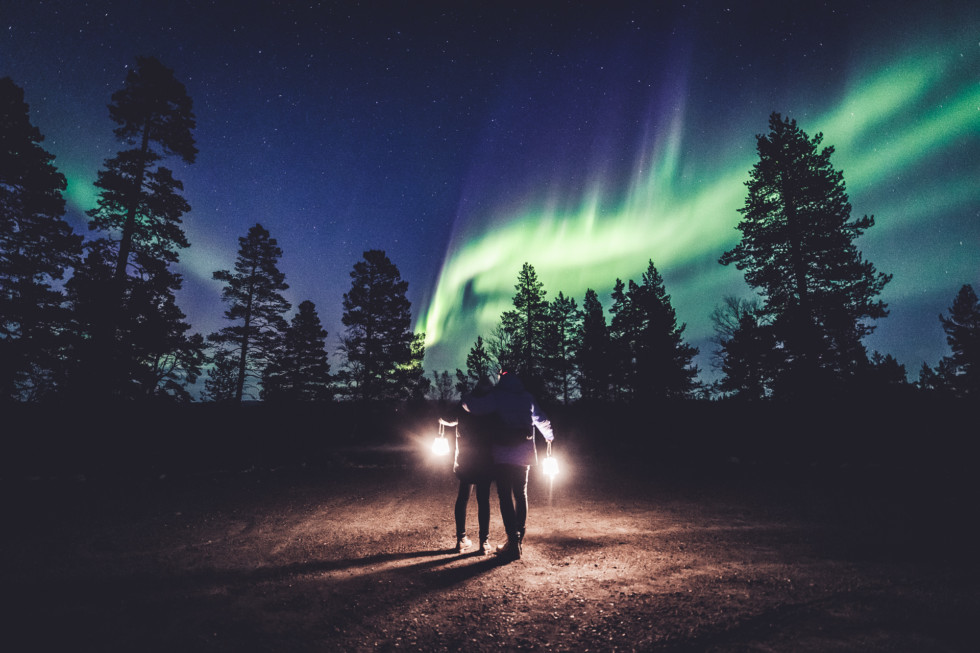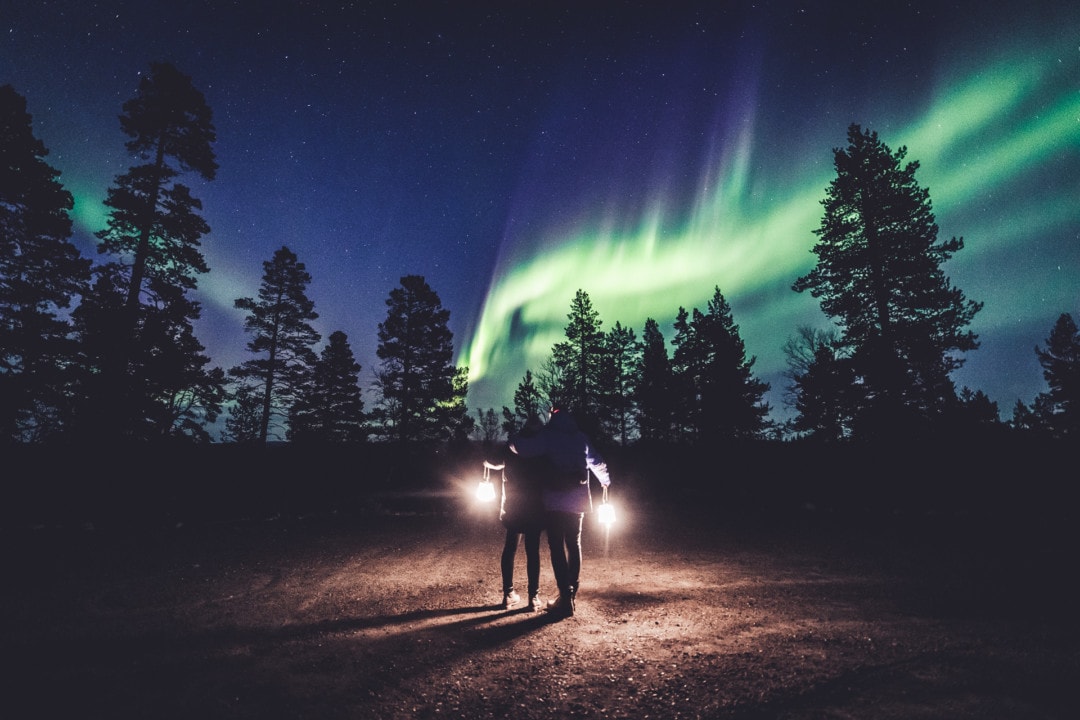 This was only the beginning of the huge aurora show, and soon the sky above us turned green.
– Look, look, look, look! – screamed Mattia.
– Yeah, I know! – I replied.
The auroras were in every direction, and boy, they were beautiful! So much so, that I had trouble deciding where to aim my camera. It was going so high, so I've set the camera vertically: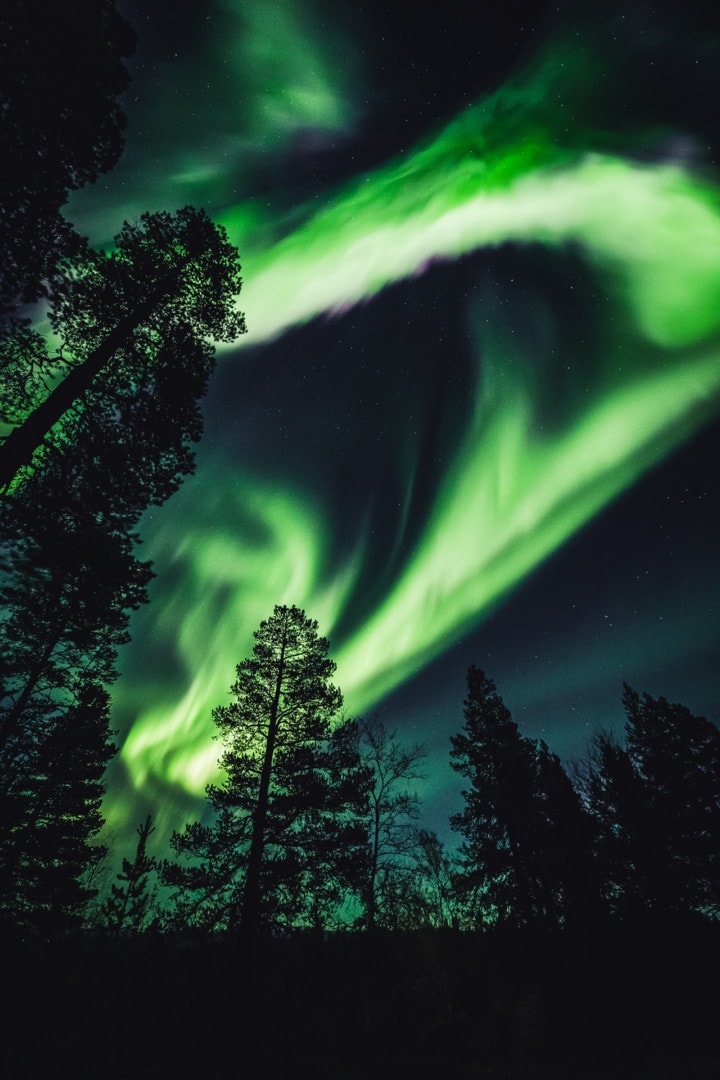 Our Aurora Camper also got a nice picture under the northern lights!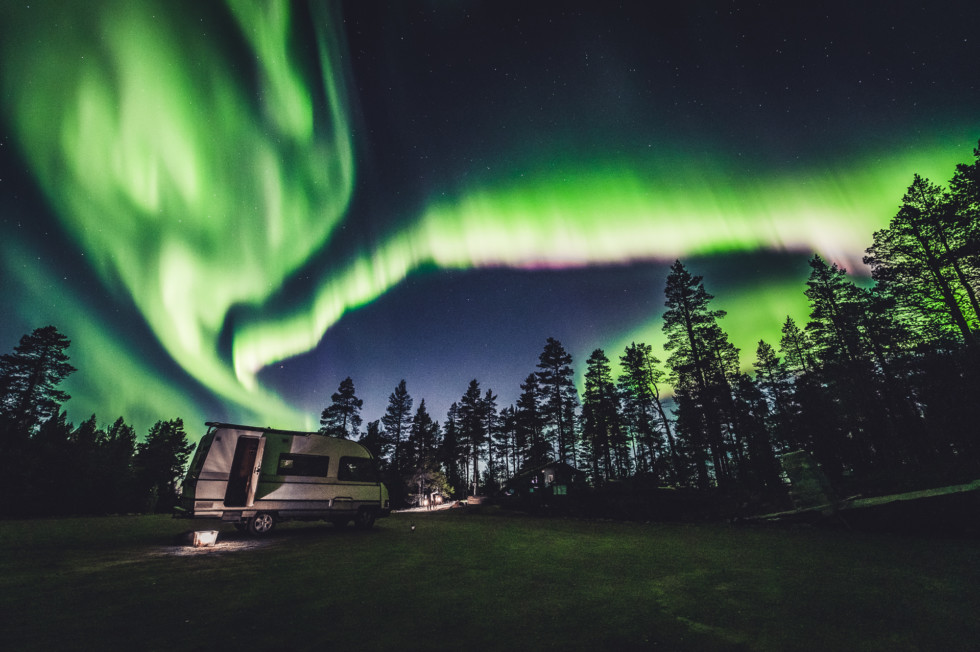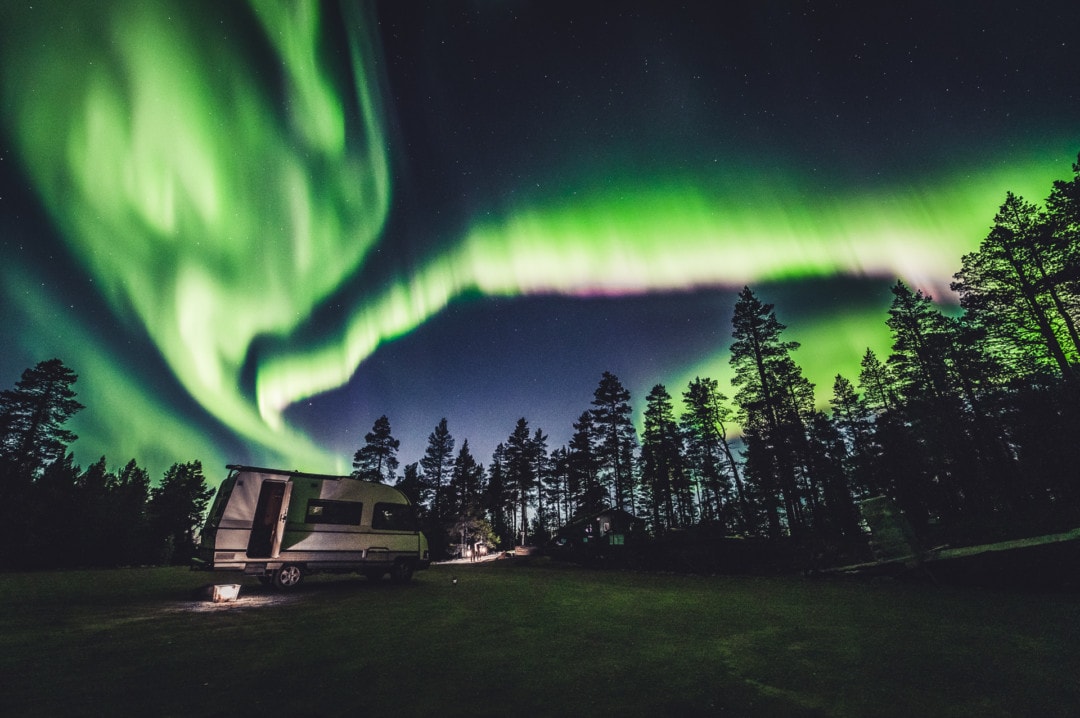 I've taken a few hundreds of pictures in amazement. I soon realized that Juha & friends have gone to the obsvervation platform. I tried to walk towards it, but just could not. I had to stop and take more pictures!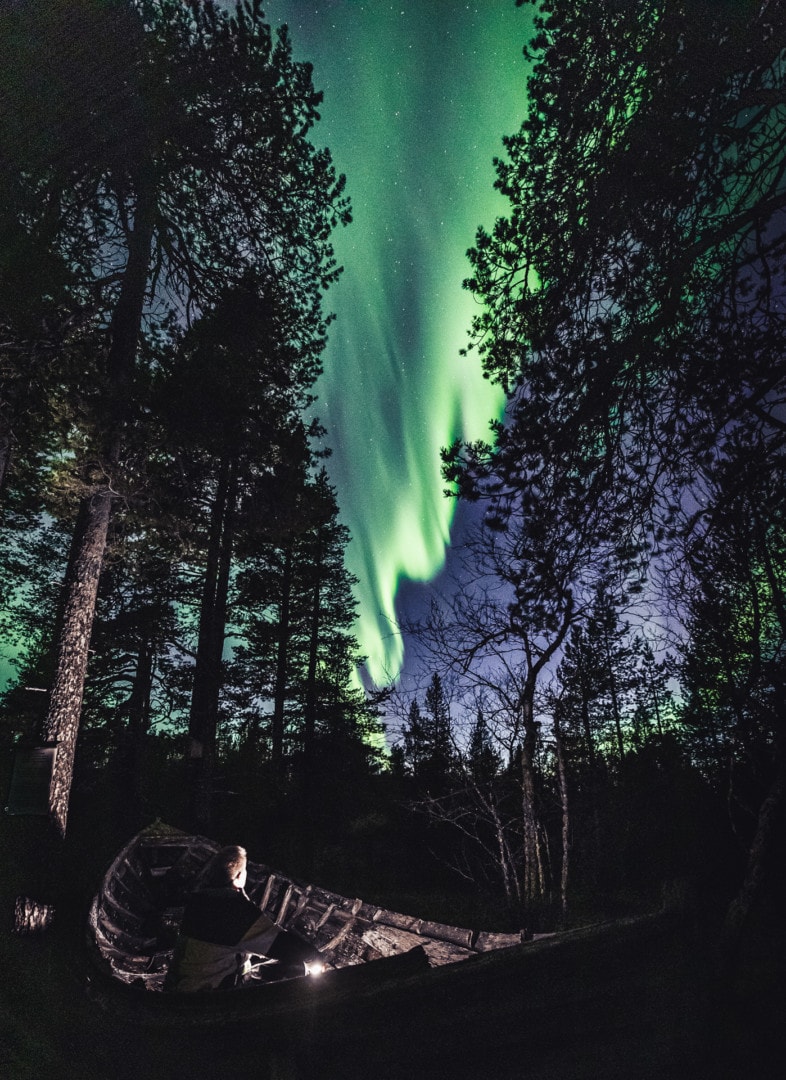 Luckily, the auroras were not going anywhere, and when I got to the observation point, the northern lights were still blasting.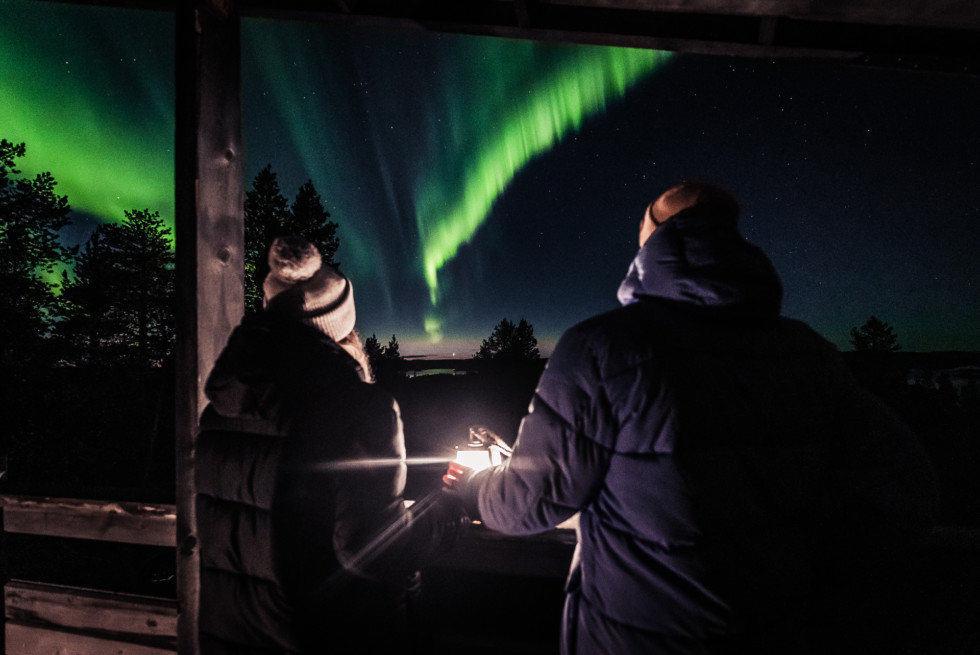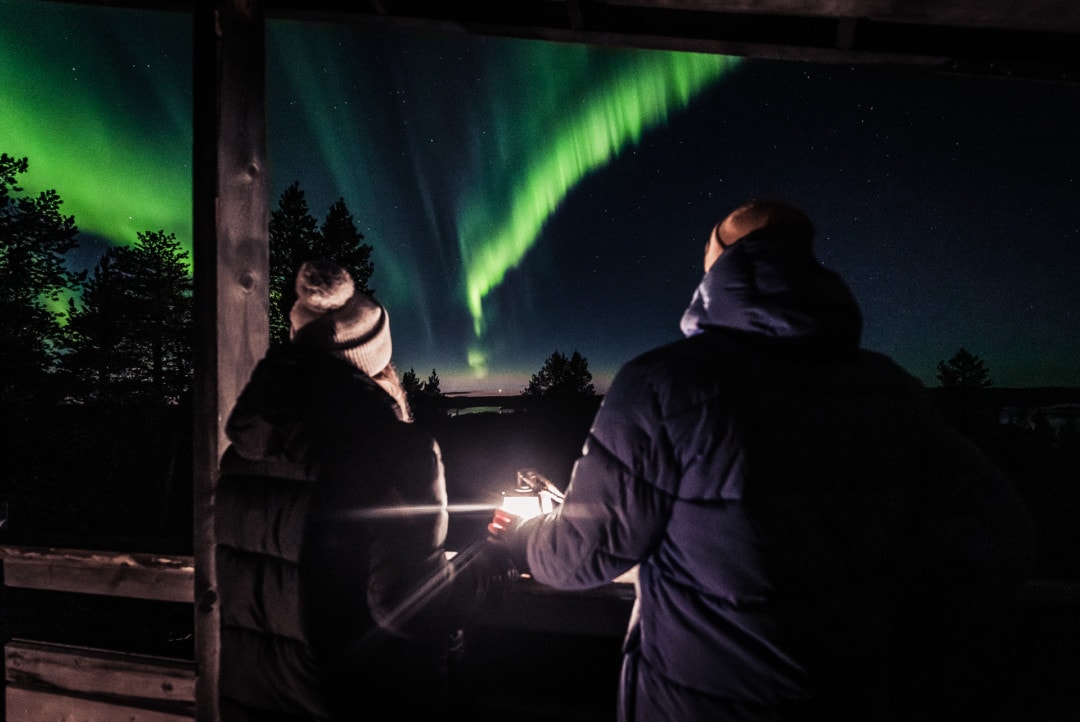 I went out and around that house to take more pictures. This just such an amazing site!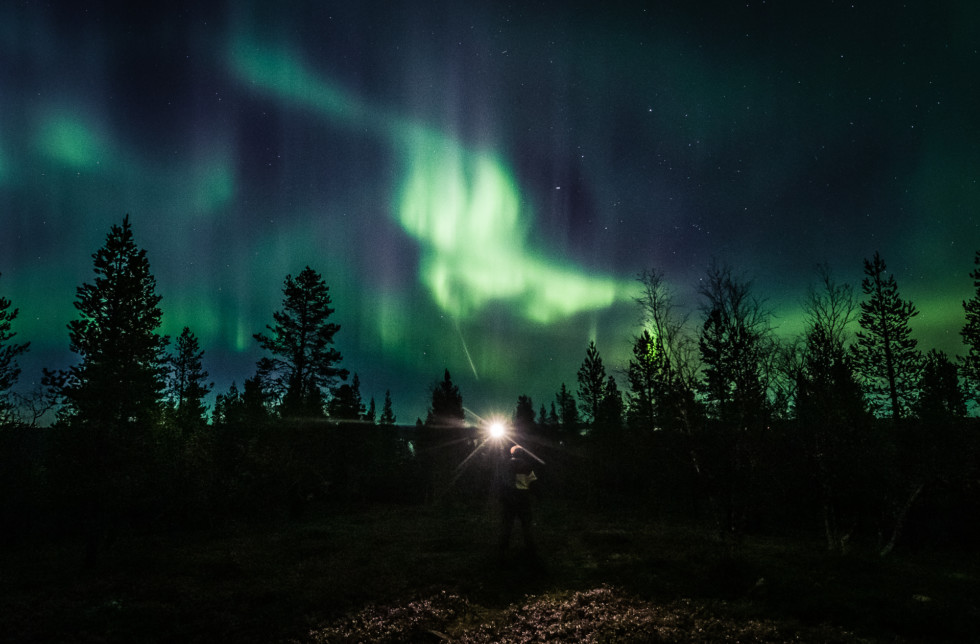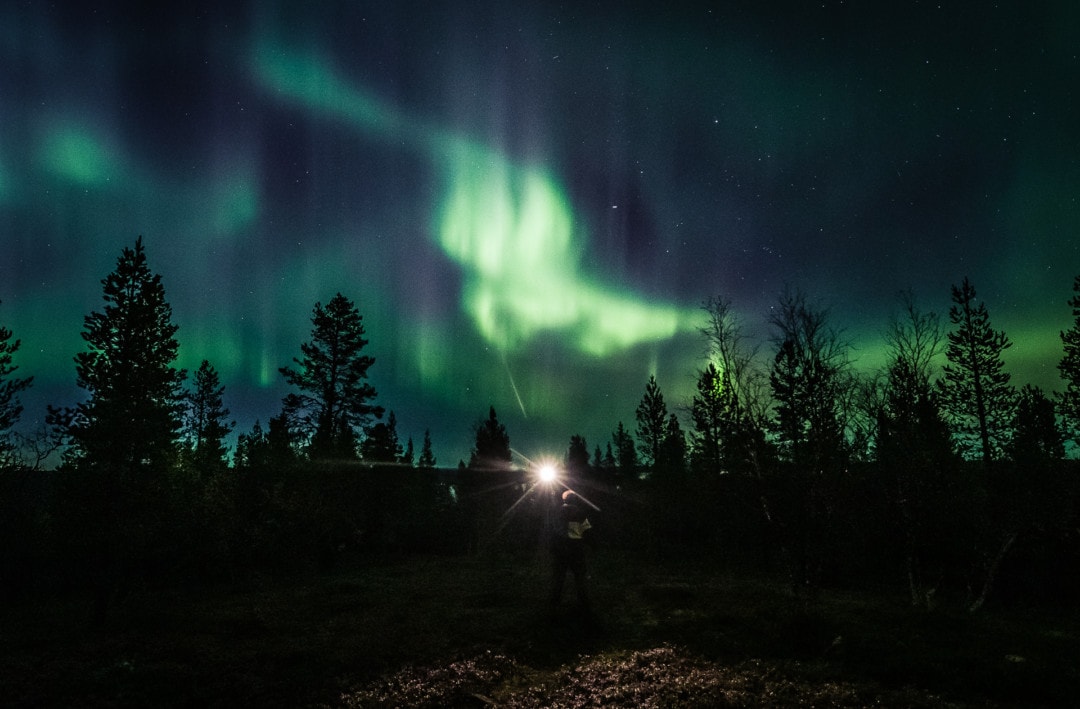 The auroras started to calm down a little. I took some final pictures, and we went back to the camper.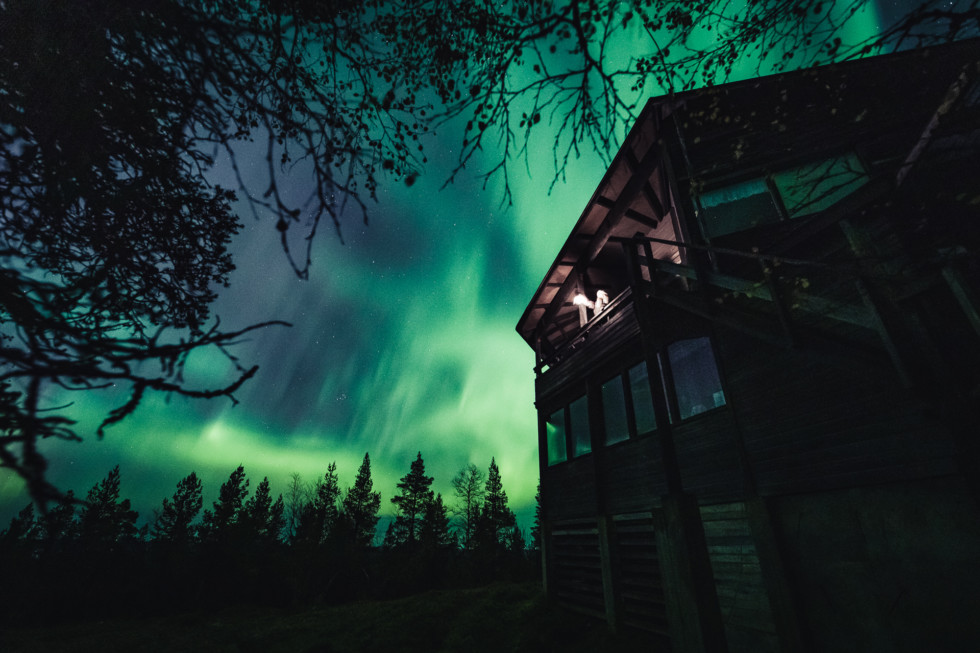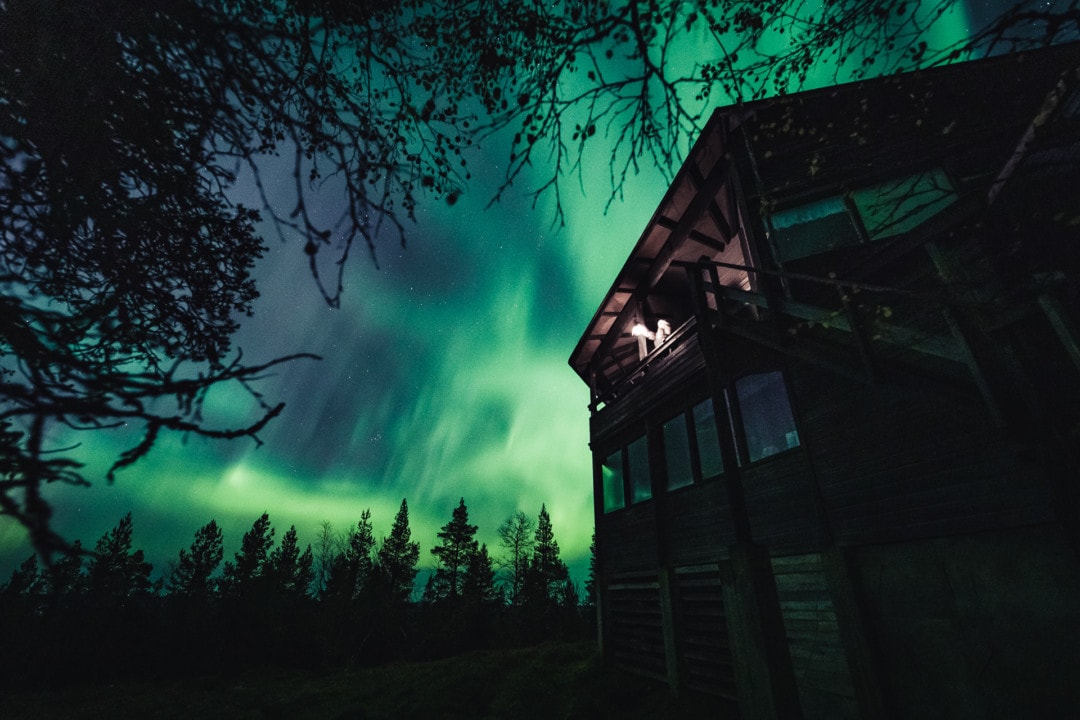 There is no way that the aurora storm was finishing, so we decided to change location. 
When we arrived to the lake, the auroras were almost gone, but the whole sky still lit with green. I saw a huge rock in the middle of the water, and I knew immediately that I had to get there. Just like during my previous aurora hunting adventure! 😂
I took my shoes and pants off, and went into the water. It was f**king cold! But the main challenge was pointy and slippery rocks. I slowly crawled towards the rock, which was pretty hard to climb on. I had my pants with me, and I once I got to the rock, I put my pants back on! 😂 I would not want a picture without my pants. 
I went to the rock three times in total, and this was probably my best shot from the rock. You can see how I did it by watching my aurora vlog.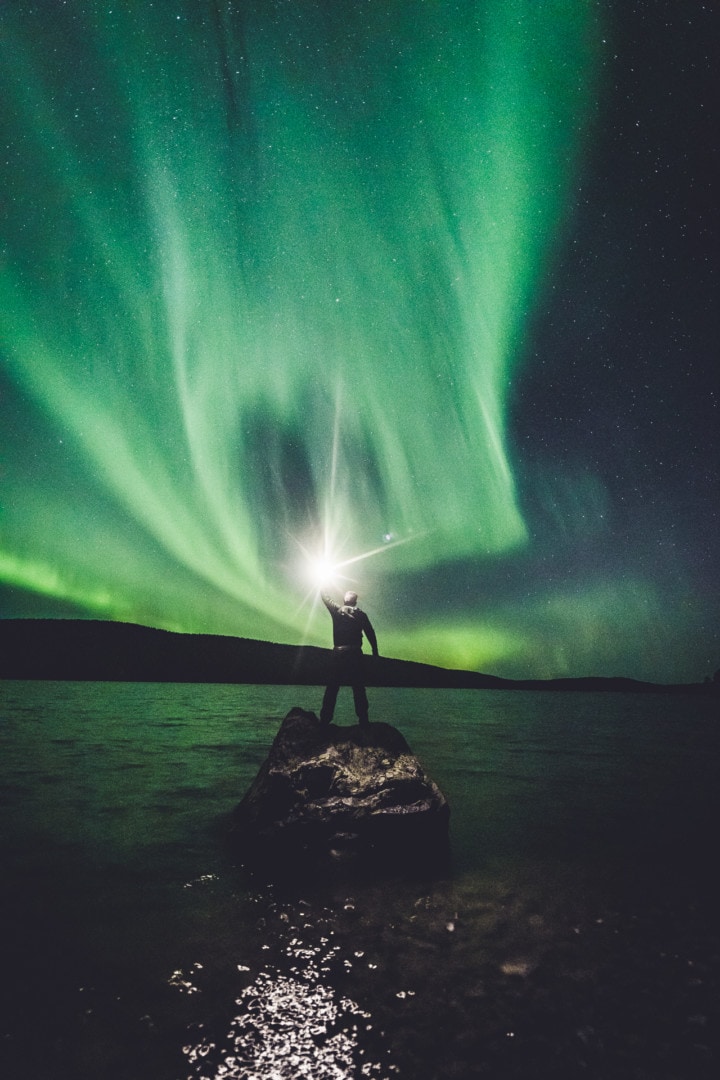 The auroras were intensifying again, so we just continued taking pictures! The auroras were already continuing for almost 4 hours! Heini & Mattia were kind enough to model for the photos…
… in addition to the photos of just me!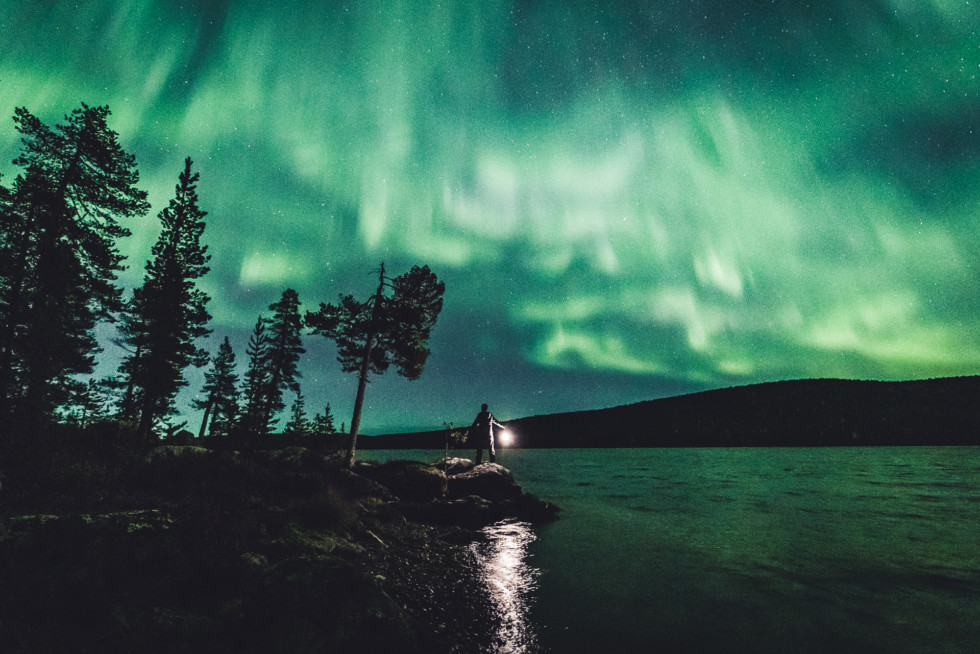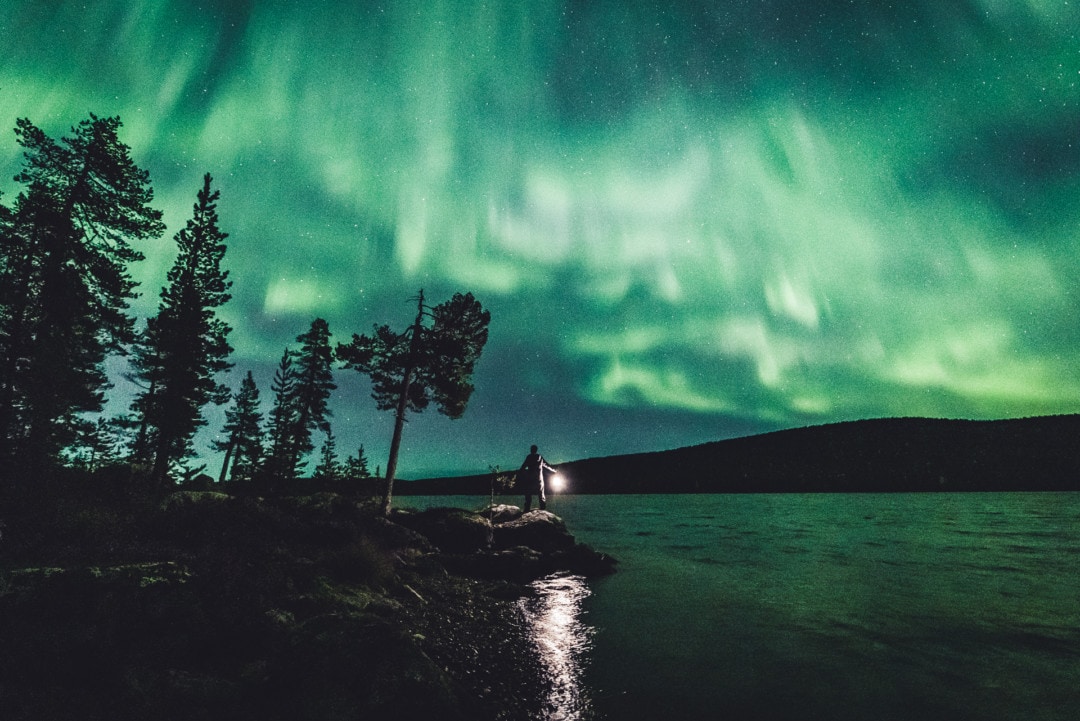 At this point, we've aready spent almost 5 hours out on the lake, and my friends were getting tired. I've promised to take "one last picture". I took about a hundred! 🤣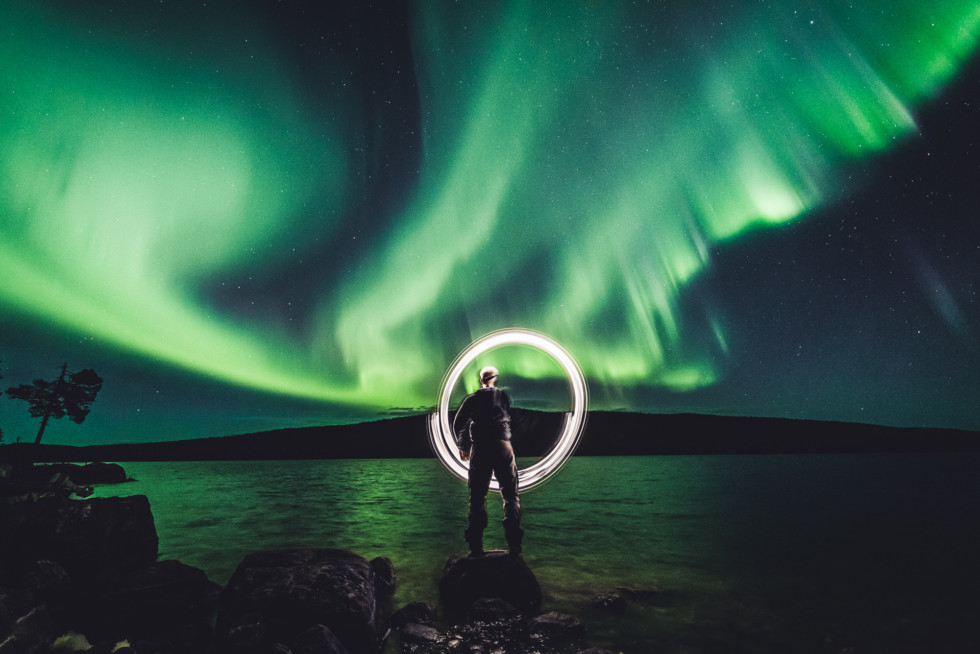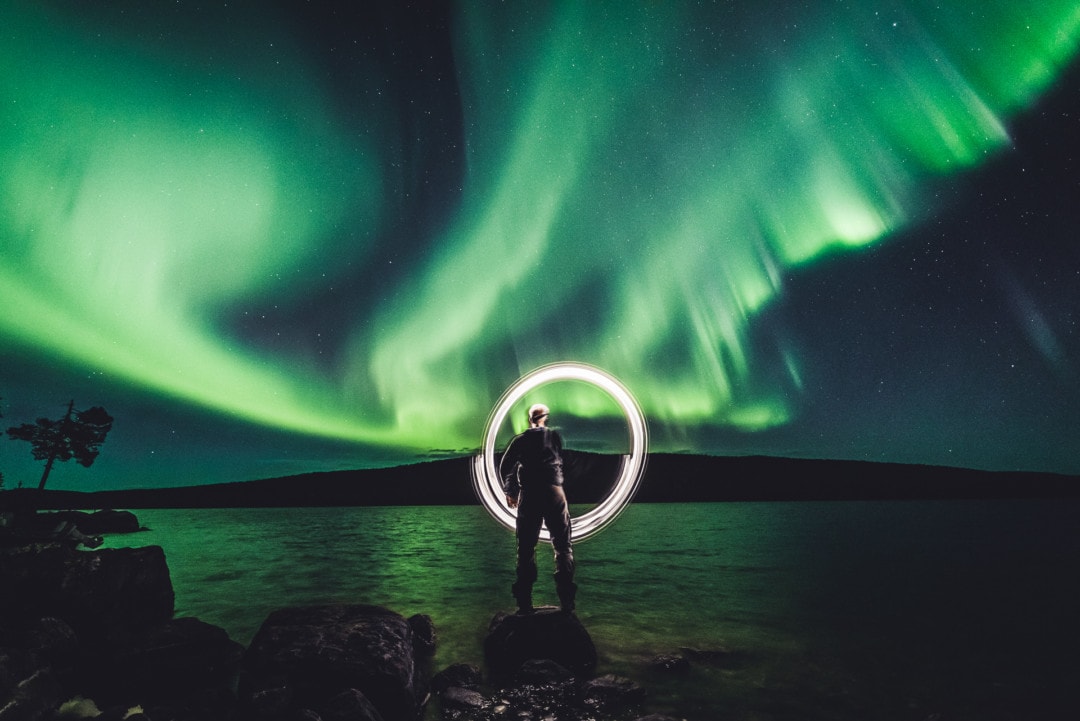 While we were driving back, the auroras came back once again, and with a blast! We jumped out of the Aurora Camper, and just stood in amazement, watching the skies.
At this time, I was sure that the northern lights were over for that night. It as 2.30AM, after all! However, when we got back to Aurora Village, the lights started dancing again. I lost count on which time was it, probably the 4th for that night. Juha, Mattia and Heini all went to sleep, but I kept on shooting!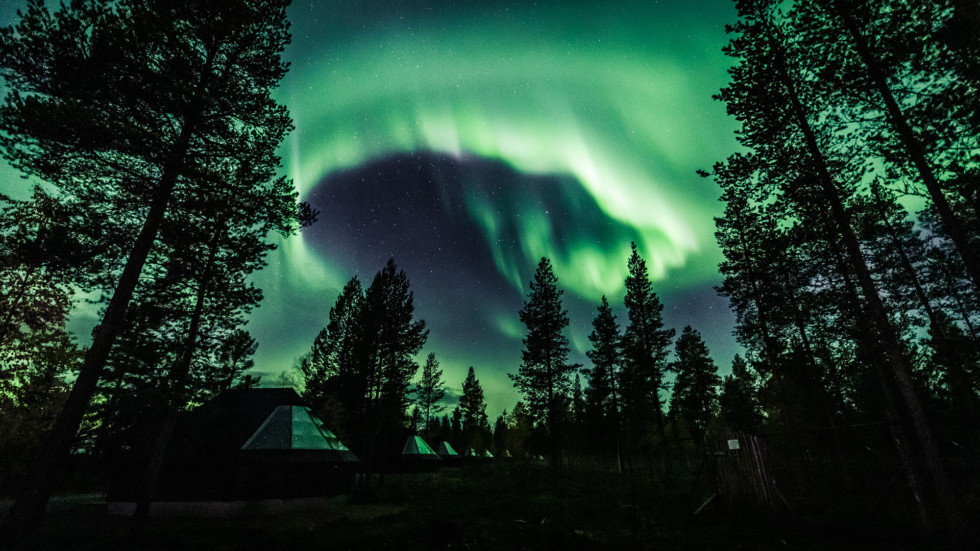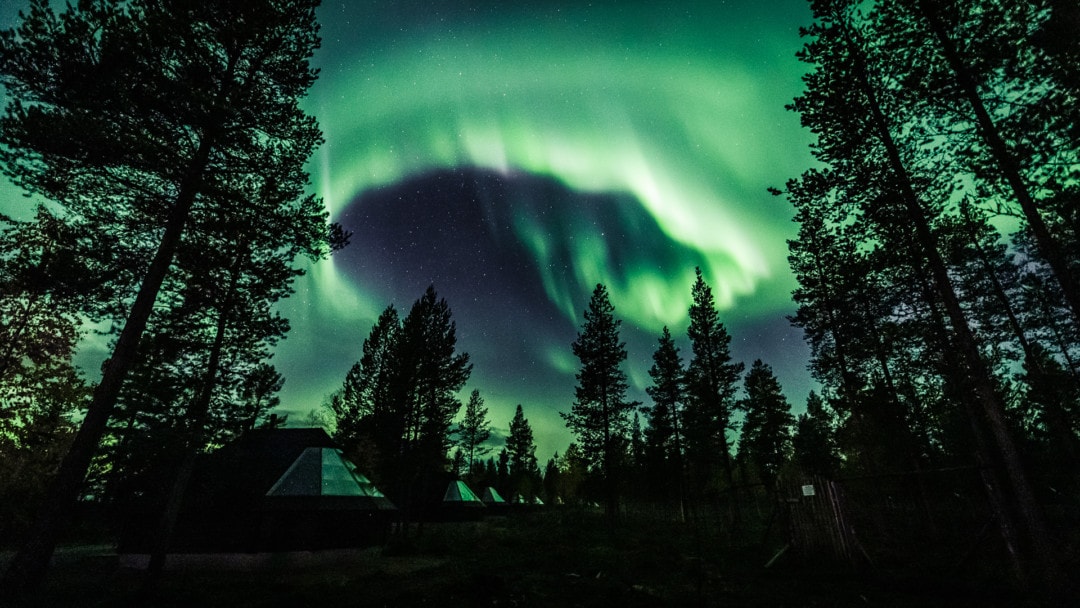 At this point, my video camera ran out of memory, and my batteries were running low anyway. However, this was the time when the aurora borealis show was finally ending.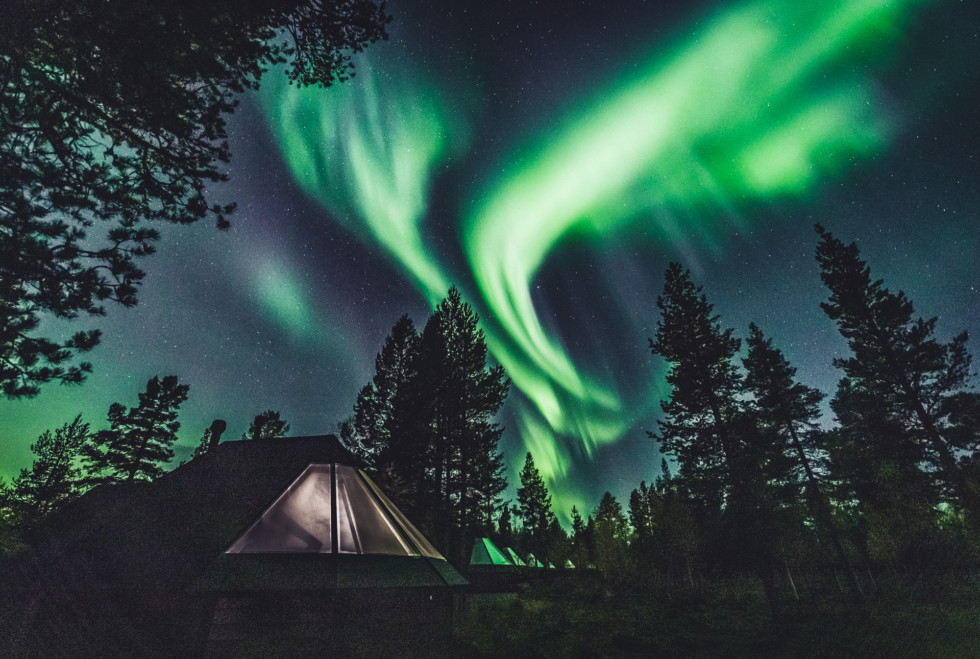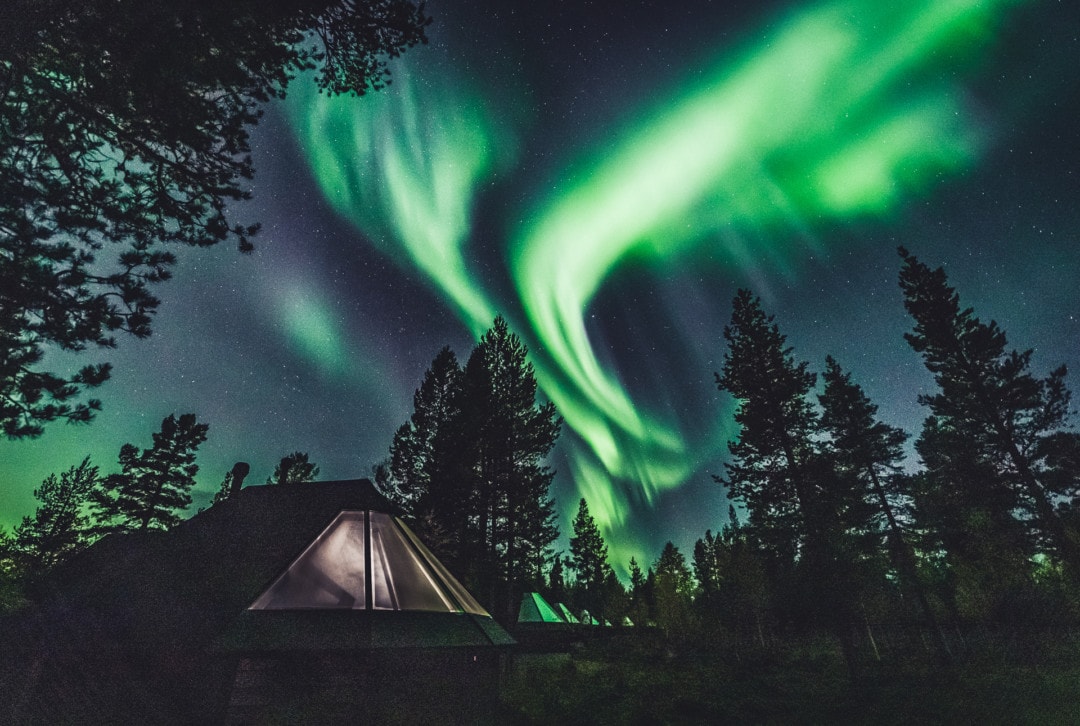 Wow.
What
A
Night!
So, what did we learn from this:
1. Autumn is truly the best season for northern lights. I've written this in my blog post. 
2. Ivalo region has lots of nice places for northern lights. The Aurora Village also works well! 
3. Seeing Aurora Storm is also likely during the Solar Minimum, at which we are right now. I will try to elaborate in my next posts.
If you liked the content, go order our News Letter, and subsribe to our Youtube channel!
Until later, Alex.
 Get notified when northern lights appear in Lapland!
Northern Lights Alert App analyses the night skies, and sends notification on your phone immediately when the northern lights appear.
I have tested the Northern Lights Alert App for several weeks and found that it works like a clock. Northern Lights Alert App also takes the clouds into consideration, and does not send you false notifications. Currently, the App works in following cities: Rovaniemi, Levi, Ylläs, Saariselkä, Ivalo.
The service costs 9,90€ for 3 days, and you can choose which city you want to be notified about.
Use our affiliate link and help the site 🙂 
Related Aurora Blog Posts: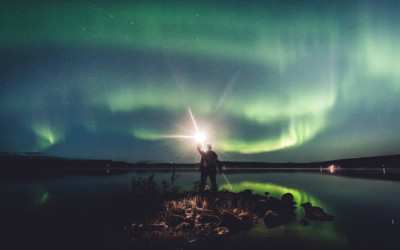 September & October are truly the best months to see northern lights in Lapland! In this article I explain why autumn is a really good season for aurora hunting!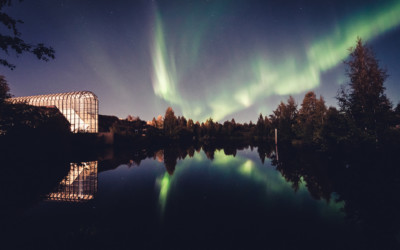 Arktikum Park is one of the best places to see northern lights in Rovaniemi Lapland Finland. On a cold September night in 2019 I went aurora hunting there, and seen a small aurora storm!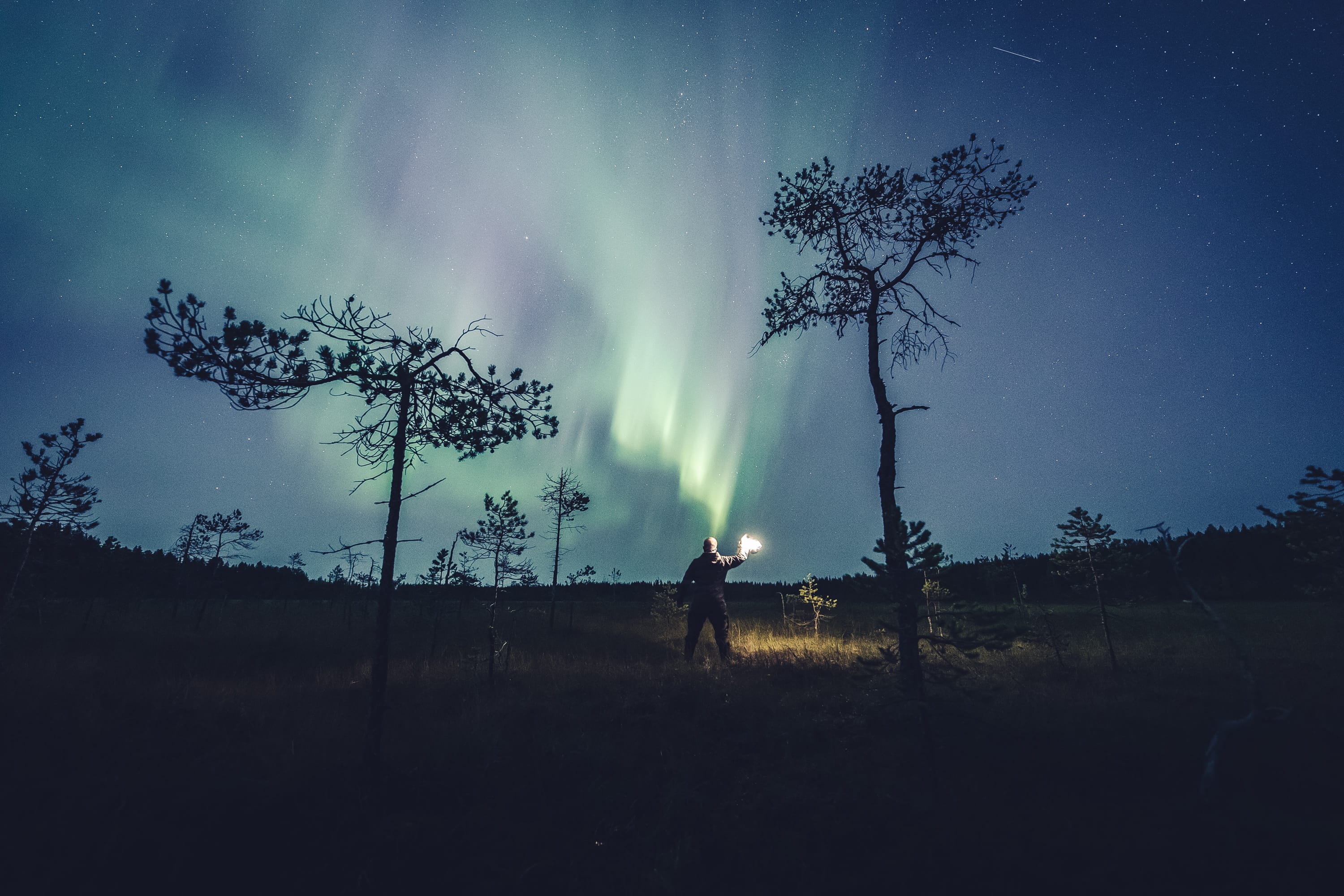 Northern lights season has started with a bang in Rovaniemi! First aurora storm of September 2019 brought an amazing and colourful display of light!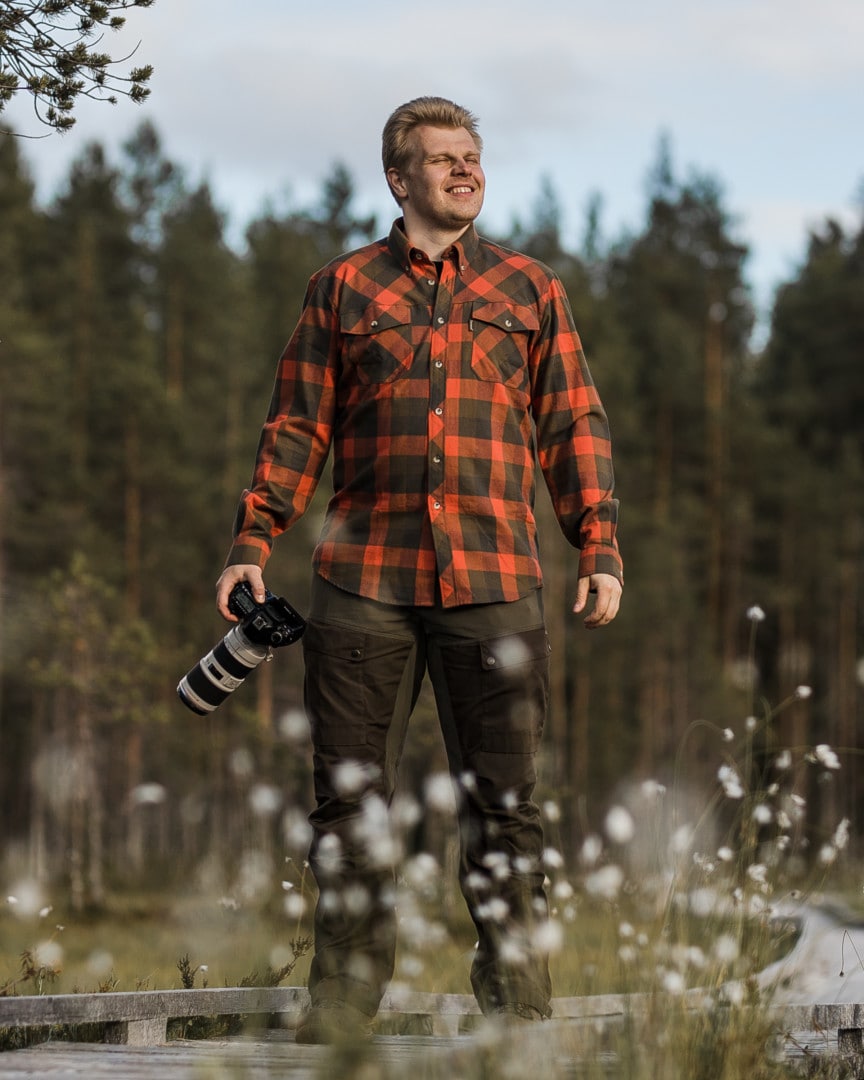 Alexander Kuznetsov
Aurora Hunter
Alex is a passionate aurora hunter and photographer based in Rovaniemi, Finnish Lapland. He spends dozens of nights every season hunting and waiting for northern lights. He is driven by the desire to capture aurora borealis in its full glory, as well as to capture the ultimate aurora photo that no one has ever seen before. Alex is also a videographer, hiker and explorer.